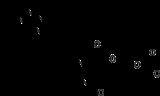 Olmesartan
Olmesartan medoxomil
is an
angiotensin II receptor antagonist
Angiotensin II receptor antagonist
Angiotensin II receptor antagonists, also known as angiotensin receptor blockers , AT1-receptor antagonists or sartans, are a group of pharmaceuticals which modulate the renin-angiotensin-aldosterone system...
used to treat
high blood pressure
Hypertension
Hypertension or high blood pressure is a cardiac chronic medical condition in which the systemic arterial blood pressure is elevated. What that means is that the heart is having to work harder than it should to pump the blood around the body. Blood pressure involves two measurements, systolic and...
.
Indications
Olmesartan is indicated for the treatment of hypertension. It may be used alone or in combination with other antihypertensive agents.
The U.S.
Food and Drug Administration
Food and Drug Administration
The Food and Drug Administration is an agency of the United States Department of Health and Human Services, one of the United States federal executive departments...
(FDA) has determined that the benefits of Benicar continue to outweigh its potential risks when used for the treatment of patients with high blood pressure according to the drug label.
Contraindications
Contraindication
Contraindication
In medicine, a contraindication is a condition or factor that serves as a reason to withhold a certain medical treatment.Some contraindications are absolute, meaning that there are no reasonable circumstances for undertaking a course of action...
s for treatment with olmesartan include biliary obstruction (BNF).
Cautions
Angiotensin-II receptor antagonists should be used with caution in
renal artery stenosis
Renal artery stenosis
Renal artery stenosis is the narrowing of the renal artery, most often caused by atherosclerosis or fibromuscular dysplasia. This narrowing of the renal artery can impede blood flow to the target kidney...
. Monitoring of plasma-potassium concentration is advised, particularly in the elderly and in patients with renal impairment; lower initial doses may be appropriate in these patients. Angiotensin-II receptor antagonists should be used with caution in
aortic
Aortic valve stenosis
Aortic valve stenosis is a disease of the heart valves in which the opening of the aortic valve is narrowed. The aortic valve is the valve between the left ventricle of the heart and the aorta, which is the largest artery in the body and carries the entire output of blood.-Pathophysiology:The...
or mitral valve stenosis and in
hypertrophic cardiomyopathy
Hypertrophic cardiomyopathy
Hypertrophic cardiomyopathy is a disease of the myocardium in which a portion of the myocardium is hypertrophied without any obvious cause...
. Those with primary aldosteronism, and Afro-Caribbean patients (particularly those with left ventricular hypertrophy), may not benefit from an angiotensin-II receptor antagonist.
Adverse effects
The incidence of adverse effects with BENICAR (the trade name for olmesartan medoxomil) is reported as similar to placebo; the only adverse effect that occurred in >1% of patients treated with BENICAR and more frequently than placebo was dizziness (3% vs 1%). The full prescribing information for Benicar notes that as with all drugs that act directly on the renin-angiotensin system, olmesartan is contraindicated in pregnancy and can cause injury and even death to the developing fetus. In studies of angiotensin II receptor antagonists such as olmesartan, patients with unilateral or bilateral renal artery stenosis, increases in serum creatinine or blood urea nitrogen (BUN) have been reported. There has been no long-term use of olmesartan medoxomil in patients with unilateral or bilateral renal artery stenosis, but similar results may be expected.
Structure
The olmesartan molecule includes one
tetrazole
Tetrazole
Tetrazoles are a class of synthetic organic heterocyclic compound, consisting of a 5-member ring of four nitrogen and one carbon atom . The simplest is tetrazole itself, CN4H2. They are unknown in nature...
group (a 5-member heterocyclic ring of four
nitrogen
Nitrogen
Nitrogen is a chemical element that has the symbol N, atomic number of 7 and atomic mass 14.00674 u. Elemental nitrogen is a colorless, odorless, tasteless, and mostly inert diatomic gas at standard conditions, constituting 78.08% by volume of Earth's atmosphere...
and one
carbon
Carbon
Carbon is the chemical element with symbol C and atomic number 6. As a member of group 14 on the periodic table, it is nonmetallic and tetravalent—making four electrons available to form covalent chemical bonds...
atom) and one
imidazole
Imidazole
Imidazole is an organic compound with the formula C3H4N2. This aromatic heterocyclic is a diazole and is classified as an alkaloid. Imidazole refers to the parent compound, whereas imidazoles are a class of heterocycles with similar ring structure, but varying substituents...
group (a 5-membered planar heterocyclic aromatic ring of two nitrogen and three carbon atoms, classified as an
alkaloid
Alkaloid
Alkaloids are a group of naturally occurring chemical compounds that contain mostly basic nitrogen atoms. This group also includes some related compounds with neutral and even weakly acidic properties. Also some synthetic compounds of similar structure are attributed to alkaloids...
).
Mechanism of action
Olmesartan is a
prodrug
Prodrug
A prodrug is a pharmacological substance administered in an inactive form. Once administered, the prodrug is metabolised in vivo into an active metabolite, a process termed bioactivation. The rationale behind the use of a prodrug is generally for absorption, distribution, metabolism, and...
that works by blocking the binding of
angiotensin II
Angiotensin
Angiotensin, a peptide hormone, causes blood vessels to constrict, and drives blood pressure up. It is part of the renin-angiotensin system, which is a major target for drugs that lower blood pressure. Angiotensin also stimulates the release of aldosterone, another hormone, from the adrenal cortex...
to the AT
1
receptors in vascular muscle; it is therefore independent of angiotensin II synthesis pathways, unlike
ACE inhibitor
ACE inhibitor
ACE inhibitors or angiotensin-converting enzyme inhibitors are a group of drugs used primarily for the treatment of hypertension and congestive heart failure...
s. By blocking the binding rather than the synthesis of angiotensin II, olmesartan inhibits the negative regulatory feedback on
renin
Renin
Renin , also known as an angiotensinogenase, is an enzyme that participates in the body's renin-angiotensin system -- also known as the Renin-Angiotensin-Aldosterone Axis -- that mediates extracellular volume , and arterial vasoconstriction...
secretion. As a result of this blockage, olmesartan reduces
vasoconstriction
Vasoconstriction
Vasoconstriction is the narrowing of the blood vessels resulting from contraction of the muscular wall of the vessels, particularly the large arteries, small arterioles and veins. The process is the opposite of vasodilation, the widening of blood vessels. The process is particularly important in...
and the secretion of
aldosterone
Aldosterone
Aldosterone is a hormone that increases the reabsorption of sodium ions and water and the release of potassium in the collecting ducts and distal convoluted tubule of the kidneys' functional unit, the nephron. This increases blood volume and, therefore, increases blood pressure. Drugs that...
. This lowers blood pressure by producing
vasodilation
Vasodilation
Vasodilation refers to the widening of blood vessels resulting from relaxation of smooth muscle cells within the vessel walls, particularly in the large arteries, smaller arterioles and large veins. The process is essentially the opposite of vasoconstriction, or the narrowing of blood vessels. When...
, and decreasing peripheral resistance.
Interactions
Do not use non-prescription products that contain stimulants; including diet pills, and cold medicines.
Consult your doctor before taking any potassium supplements, including salt substitutes.
Dosage and administration
The usual recommended starting dose of olmesartan is 20 mg once daily. The dose may be increased to 40 mg after 2 weeks of therapy, if further reduction in blood pressure is desirable. Doses above 40 mg do not appear to have greater effect, and twice-daily dosing offers no advantage over the same total dose given once daily. No adjustment of dosage is typically necessary for advanced age, renal impairment, or hepatic dysfunction. For patients with possible depletion of intravascular volume (e.g., patients treated with diuretics), olmesartan should be initiated with caution; consideration should be given to use of a lower starting dose in such cases. If blood pressure is not controlled by Benicar alone, a diuretic may be added. Benicar may be administered with other antihypertensive agents. Benicar may be administered with or without food.
Preparations
Olmesartan is marketed worldwide by Daiichi Sankyo and in India by Abbott Healthcare Pvt. Ltd. under the trade name WinBP, Zydus Cadila under the trade name Olmy and by Ranbaxy Laboratories Ltd. under the trade name Olvance and in Canada by Schering-Plough as Olmetec. Benicar HCT is the brand name of a medication containing olmesartan medoxomil in combination with
hydrochlorothiazide
Hydrochlorothiazide
Hydrochlorothiazide, abbreviated HCTZ, HCT, or HZT, is a first-line diuretic drug of the thiazide class that acts by inhibiting the kidneys' ability to retain water. This reduces the volume of the blood, decreasing blood return to the heart and thus cardiac output and, by other mechanisms, is...
, a
thiazide
Thiazide
Thiazide is a term used to describe a type of molecule and a class of diuretics often used to treat hypertension and edema ....
diuretic
Diuretic
A diuretic provides a means of forced diuresis which elevates the rate of urination. There are several categories of diuretics. All diuretics increase the excretion of water from bodies, although each class does so in a distinct way.- Medical uses :...
. Three dosage combinations are available: 20 mg or 40 mg of olmesartan medoxomil combined with 12.5 mg of hydrochlorothiazide, or 40 mg of olmesartan medoxomil combined with 25 mg of hydrochlorothiazide.
External links