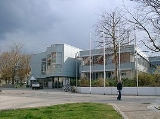 Obersulm
Obersulm
is a municipality in the
district of Heilbronn
Heilbronn (district)
Heilbronn is a district in the north of Baden-Württemberg, Germany. Neighboring districts are Neckar-Odenwald, Hohenlohe, Schwäbisch Hall, Rems-Murr, Ludwigsburg, Enz, Karlsruhe and Rhein-Neckar...
,
Baden-Württemberg
Baden-Württemberg
Baden-Württemberg is one of the 16 states of Germany. Baden-Württemberg is in the southwestern part of the country to the east of the Upper Rhine, and is the third largest in both area and population of Germany's sixteen states, with an area of and 10.7 million inhabitants...
,
Germany
Germany
Germany , officially the Federal Republic of Germany , is a federal parliamentary republic in Europe. The country consists of 16 states while the capital and largest city is Berlin. Germany covers an area of 357,021 km2 and has a largely temperate seasonal climate...
, formed in the 1970-s as a merger of the formerly independent municipalities Affaltrach, Eichelberg, Eschenau, Sülzbach, Weiler, and Willsbach. It is situated 12 km east of
Heilbronn
Heilbronn
Heilbronn is a city in northern Baden-Württemberg, Germany. It is completely surrounded by Heilbronn County and with approximately 123.000 residents, it is the sixth-largest city in the state....
. Its name refers to its geographical location in the upper ("Ober-") valley of the small river Sulm.
The nineteenth century
synagogue
Synagogue
A synagogue is a Jewish house of prayer. This use of the Greek term synagogue originates in the Septuagint where it sometimes translates the Hebrew word for assembly, kahal...
has been restored.