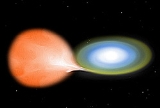 Nova
A
nova
is a
cataclysmic
Cataclysmic variable star
Cataclysmic variable stars are stars which irregularly increase in brightness by a large factor, then drop back down to a quiescent state...
nuclear explosion
Nuclear explosion
A nuclear explosion occurs as a result of the rapid release of energy from an intentionally high-speed nuclear reaction. The driving reaction may be nuclear fission, nuclear fusion or a multistage cascading combination of the two, though to date all fusion based weapons have used a fission device...
in a star caused by the
accretion
Accretion (astrophysics)
In astrophysics, the term accretion is used for at least two distinct processes.The first and most common is the growth of a massive object by gravitationally attracting more matter, typically gaseous matter in an accretion disc. Accretion discs are common around smaller stars or stellar remnants...
of hydrogen on to the surface of a
white dwarf
White dwarf
A white dwarf, also called a degenerate dwarf, is a small star composed mostly of electron-degenerate matter. They are very dense; a white dwarf's mass is comparable to that of the Sun and its volume is comparable to that of the Earth. Its faint luminosity comes from the emission of stored...
star
Star
A star is a massive, luminous sphere of plasma held together by gravity. At the end of its lifetime, a star can also contain a proportion of degenerate matter. The nearest star to Earth is the Sun, which is the source of most of the energy on Earth...
, which ignites and starts
nuclear fusion
Nuclear fusion
Nuclear fusion is the process by which two or more atomic nuclei join together, or "fuse", to form a single heavier nucleus. This is usually accompanied by the release or absorption of large quantities of energy...
in a runaway manner. Novae are not to be confused with
supernova
Supernova
A supernova is a stellar explosion that is more energetic than a nova. It is pronounced with the plural supernovae or supernovas. Supernovae are extremely luminous and cause a burst of radiation that often briefly outshines an entire galaxy, before fading from view over several weeks or months...
e or
luminous red nova
Luminous red nova
A luminous red nova is a stellar explosion thought to be caused by the merger of two stars. They are characterised by a distinct red colour, and a light curve that lingers with resurgent brightness in the infrared...
e.
If a white dwarf has a close companion star that overflows its
Roche lobe
Roche lobe
The Roche lobe is the region of space around a star in a binary system within which orbiting material is gravitationally bound to that star. If the star expands past its Roche lobe, then the material can escape the gravitational pull of the star. If the star is in a binary system then the material...
, the white dwarf will steadily accrete gas from the companion's outer atmosphere. The companion may be a
main sequence
Main sequence
The main sequence is a continuous and distinctive band of stars that appears on plots of stellar color versus brightness. These color-magnitude plots are known as Hertzsprung–Russell diagrams after their co-developers, Ejnar Hertzsprung and Henry Norris Russell...
star, or one that is aging and expanding into a
red giant
Red giant
A red giant is a luminous giant star of low or intermediate mass in a late phase of stellar evolution. The outer atmosphere is inflated and tenuous, making the radius immense and the surface temperature low, somewhere from 5,000 K and lower...
.