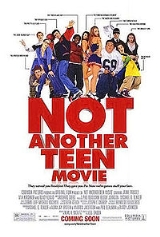 Not Another Teen Movie
Not Another Teen Movie
is a 2001 American
comedy film
Comedy film
Comedy film is a genre of film in which the main emphasis is on humour. They are designed to elicit laughter from the audience. Comedies are mostly light-hearted dramas and are made to amuse and entertain the audiences...
directed by
Joel Gallen
Joel Gallen
Joel Gallen is an American film director, producer, and screenwriter. He has produced the MTV Movie Awards between 1995 and 2006, as well as many of the Comedy Central Roasts. Gallen directed the film Not Another Teen Movie...
, released on December 14, 2001 by
Columbia Pictures
Columbia Pictures
Columbia Pictures Industries, Inc. is an American film production and distribution company. Columbia Pictures now forms part of the Columbia TriStar Motion Picture Group, owned by Sony Pictures Entertainment, a subsidiary of the Japanese conglomerate Sony. It is one of the leading film companies...
. It is a
parody
Parody film
A parody film is a comedy that satirizes other film genres or films. Although the genre is often overlooked, parody films are commonly profitable at the box office...
of teen movies which have accumulated in Hollywood over the last few decades. While the general plot is based on
Pretty in Pink
Pretty in Pink
Pretty in Pink is a 1986 American teen romantic comedy-drama film about teenage love and social cliques in 1980s American high schools. It is one of a group of John Hughes films starring Molly Ringwald, and is commonly identified as a "Brat Pack" film...
,
She's All That
She's All That
She's All That is a 1999 American romantic comedy film directed by Robert Iscove, and is a modern adaptation of George Bernard Shaw's play Pygmalion...
, and 10 Things I Hate About You, the film is also filled with
allusion
Allusion
An allusion is a figure of speech that makes a reference to, or representation of, people, places, events, literary work, myths, or works of art, either directly or by implication. M. H...
s to numerous other films including
Bring It On
Bring It On (film)
Bring It On is a 2000 teen comedy film about two competing high school cheerleading squads, starring Kirsten Dunst, Eliza Dushku, Jesse Bradford, and Gabrielle Union...
,
American Pie
American Pie (franchise)
American Pie is a series of teen films conceived by Adam Herz. The first film in the franchise was originally released on July 9, 1999, by Universal Pictures, and became a worldwide pop culture phenomenon, spawning two immediate sequels, released at two-year intervals. From 2005 to 2009, four...
,
Cruel Intentions
Cruel Intentions
Cruel Intentions is a 1999 American drama film starring Sarah Michelle Gellar, Ryan Phillippe, Reese Witherspoon, and Selma Blair. The film is an adaptation of the 18th-century French epistolary novel Les Liaisons dangereuses by Laclos and is set among wealthy teenagers living in modern New York...
,
American Beauty
American Beauty (film)
American Beauty is a 1999 American drama film directed by Sam Mendes and written by Alan Ball. Kevin Spacey stars as Lester Burnham, a middle-aged magazine writer who has a midlife crisis when he becomes infatuated with his teenage daughter's best friend, Angela...
, and
The Breakfast Club
The Breakfast Club
The Breakfast Club is a 1985 American teen drama film written and directed by John Hughes. The storyline follows five teenagers as they spend a Saturday in detention together and come to realize that they are all deeper than their respective stereotypes.-Plot:The plot follows five students at...
. A single was released alongside the movie titled "Prom Tonight" and reached #86 on the
Billboard Top 100
Billboard charts
The Billboard charts tabulate the relative weekly popularity of songs or albums in the United States. The results are published in Billboard magazine...
.
In the stereotypical high school community of John Hughes High in
Southern California
Southern California
Southern California is a megaregion, or megapolitan area, in the southern area of the U.S. state of California. Large urban areas include Greater Los Angeles and Greater San Diego. The urban area stretches along the coast from Ventura through the Southland and Inland Empire to San Diego...
, sexy Priscilla (
Jaime Pressly
Jaime Pressly
Jaime Elizabeth Pressly is an American actress and model. She is best known for playing Joy Turner on the NBC sitcom My Name Is Earl, for which she was nominated for two Emmy Awards, winning one, as well as a Golden Globe Award and a Screen Actors Guild Award...
), a popular cheerleader, separates from her
football
American football
American football is a sport played between two teams of eleven with the objective of scoring points by advancing the ball into the opposing team's end zone. Known in the United States simply as football, it may also be referred to informally as gridiron football. The ball can be advanced by...
star boyfriend, Jake Wyler (
Chris Evans
Chris Evans (actor)
Christopher Robert "Chris" Evans is an American actor. He played Cary Baston on the television series Opposite Sex, and transitioned to a film career, starring in several hits, including Not Another Teen Movie , Fierce People , Fantastic Four, sequel Fantastic Four: Rise of the Silver Surfer , and...
).
No man, maybe I'll hang around. Maybe tell Janey a little S-E-C-R-A-T...P.

Looks like little Miss "run-home-to-my-daddy" ran home to her daddy.

Okay, Jakey, Jakey...about to make a big...mistakey.

I got two words for you, Jake: Prom queen... material.

Let's make like a tree and... branch out of here...

Sure, why not? I am the token black guy. I'm just supposed to smile and stay out of the conversation and say things like: "Damn," "Shit," and "That is wack."

Damn, that shit is wack.

I'm only in this song because I'm a black guy!

Good night, Pumpkin Tits.

Come on outta there honey.. Quit fartin' around.