 Norton, Kansas
Norton
is a city in and the
county seat
County seat
A county seat is an administrative center, or seat of government, for a county or civil parish. The term is primarily used in the United States....
of
Norton County
Norton County, Kansas
Norton County is a county located in the U.S. state of Kansas. As of the 2010 census, the county population was 5,671...
,
Kansas
Kansas
Kansas is a US state located in the Midwestern United States. It is named after the Kansas River which flows through it, which in turn was named after the Kansa Native American tribe, which inhabited the area. The tribe's name is often said to mean "people of the wind" or "people of the south...
,
United States
United States
The United States of America is a federal constitutional republic comprising fifty states and a federal district...
. As of the 2010 census, the city population was 2,928.
History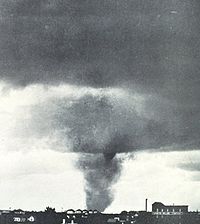 One of the first recorded
tornado
Tornado
A tornado is a violent, dangerous, rotating column of air that is in contact with both the surface of the earth and a cumulonimbus cloud or, in rare cases, the base of a cumulus cloud. They are often referred to as a twister or a cyclone, although the word cyclone is used in meteorology in a wider...
pictures was taken in Norton, in 1909. The photographer, Will Keller, was also able to see up into the tornado as it passed over him.
Geography
Norton is located at 39°50′0"N 99°53′27"W (39.833338, -99.890899). According to the
United States Census Bureau
United States Census Bureau
The United States Census Bureau is the government agency that is responsible for the United States Census. It also gathers other national demographic and economic data...
, the city has a total area of 1.9 square miles (4.9 km²), all of it land. The city is situated on the north side of Prairie Dog Creek Valley in Norton County. Before the Bureau of Reclamation constructed Keith Sebelius Reservoir in 1963, Norton was prone to frequent flooding. The construction of the Dam has since resolved the problem and created the current reservoir that sits 2.5 miles (4 km) southwest of Norton. The Nebraska border is located 11 miles (17.7 km) north of the city.
Demographics
As of the
census
Census
A census is the procedure of systematically acquiring and recording information about the members of a given population. It is a regularly occurring and official count of a particular population. The term is used mostly in connection with national population and housing censuses; other common...
of 2000, there were 3,012 people, 1,331 households, and 814 families residing in the city. The
population density
Population density
Population density is a measurement of population per unit area or unit volume. It is frequently applied to living organisms, and particularly to humans...
was 1,566.5 people per square mile (605.7/km²). There were 1,517 housing units at an average density of 789.0 per square mile (305.1/km²). The racial makeup of the city was 97.91% White, 0.40% Native American, 0.33% Asian, 0.03% African American, 0.03% Pacific Islander, 0.63% from
other races
Race (United States Census)
Race and ethnicity in the United States Census, as defined by the Federal Office of Management and Budget and the United States Census Bureau, are self-identification data items in which residents choose the race or races with which they most closely identify, and indicate whether or not they are...
, and 0.66% from two or more races. Hispanic or Latino of any race were 2.03% of the population.
There were 1,331 households out of which 27.7% had children under the age of 18 living with them, 50.5% were
married couples
Marriage
Marriage is a social union or legal contract between people that creates kinship. It is an institution in which interpersonal relationships, usually intimate and sexual, are acknowledged in a variety of ways, depending on the culture or subculture in which it is found...
living together, 8.5% had a female householder with no husband present, and 38.8% were non-families. 36.1% of all households were made up of individuals and 20.7% had someone living alone who was 65 years of age or older. The average household size was 2.19 and the average family size was 2.86.
In the city the population was spread out with 24.5% under the age of 18, 5.3% from 18 to 24, 23.5% from 25 to 44, 22.1% from 45 to 64, and 24.6% who were 65 years of age or older. The median age was 43 years. For every 100 females there were 91.5 males. For every 100 females age 18 and over, there were 82.9 males.
The median income for a household in the city was $30,339, and the median income for a family was $36,179. Males had a median income of $25,943 versus $20,559 for females. The
per capita income
Per capita income
Per capita income or income per person is a measure of mean income within an economic aggregate, such as a country or city. It is calculated by taking a measure of all sources of income in the aggregate and dividing it by the total population...
for the city was $16,438. About 5.5% of families and 9.5% of the population were below the poverty line, including 10.4% of those under age 18 and 6.5% of those age 65 or over.
Climate
Norton is on the boundary of two climate zones, humid continental and semiarid. Temperatures can fluctuate drastically between the winter and summer seasons with average lows of 15°F in January to average highs of 94°F in July. Precipitation is relatively low with an average yearly rainfall of 21.1 inches. Snowfall throughout the year averages 25.1 inches (63.8 cm), however, because of its location on the
high plains
High Plains
High Plains refers to one of two distinct land regions:*High Plains , land region of the western Great Plains*High Plains , land region adjacent to the Great Dividing Range...
, snowfall totals can sometimes approach the yearly average after a single snowfall.
Education
The Board of Education for the Unified School District #211, the Norton Community Schools, oversees the operation of four student attendance centers in the Community of Norton.
Eisenhower Elementary School
Constructed in 1954 and added on to in 1966 and 1990, Eisenhower Elementary serves students in USD 211 in grades ECD through sixth grade. Full day, every day kindergarten is offered as is a full range of special education services. Grades ECD through four are taught in self-contained classrooms. Grades 5 & 6 are departmentalized for instruction in math, reading, science, language arts and computer technology. Each teacher also teaches social studies and spelling to their homeroom students.
Norton Junior High School
Constructed in 1937 and extensively remodeled in 1984, Norton Junior High School serves the 120+ students in grades 7 & 8. In addition to required classes of math, language arts, physical education/ health, science and social studies each junior high student receives 3 semesters of instruction in computer technology and digital media production and one semester of technology exploration (robotics, pneumatics, electronics, etc.). Elective classes are offered in vocal music, instrumental music, art, wood working, and family and consumer sciences.
Norton Community High School
Constructed in 1975 & 1977, NCHS is a 3A high school with an enrollment of 200+. A comprehensive high school, NCHS is able to offer instruction in the areas of calculus, physics, human anatomy , chemistry II and foreign language. In addition to the regular academic curriculum, NCHS offers fine arts and vocational training.
USD 211 Learning Center
Opened in 2007 the USD 211 Learning Center operates from a main street store front. The USD 211 Learning Center is designed primarily to meet the needs of those who left high school without earning a diploma. Using a mostly computer based on-line curriculum, students are able to complete their credits for a high school diploma using a flexible schedule. Also, regular education students can use the Learning Center in order to remediate failed credits in the evenings and summer in order to be able to graduate on time.
The
Norton Community High School Bluejays
have won ten
Kansas State High School Activities Association
Kansas State High School Activities Association
The Kansas State High School Activities Association is the organization which oversees interscholastic competition in the state of Kansas at the high school level. It oversees both athletic and non-athletic competition, and sponsors championships in several sports and activities.The KSHSAA was...
state championships in wrestling, including a state championship in 2010 and three consecutive Class 3-2-1A championships in 2004-6. Norton's football team won back-to-back Class 4A state championships in 1985 and 1986, and finished as state runners-up in 1989. The girls basketball and boys basketball teams won state championships in 1983 and 2003, respectively, and have made numerous state tournament appearances. NCHS also boasts programs in girls tennis, girls volleyball, boys golf, cross country, and track and field.
Notable people
Nick Allen

Nick Allen

Artemus Ward "Nick" Allen was a catcher in Major League Baseball. He played for the Buffalo Buffeds/Blues, Chicago Cubs, and Cincinnati Reds. Allen became a minor league baseball manager after his playing career was over and earned the nickname "Roarin' Nick" for his altercations with umpires...


, baseball player
Kathleen Sebelius

Kathleen Sebelius

Kathleen Sebelius is an American politician currently serving as the 21st Secretary of Health and Human Services. She was the second female Governor of Kansas from 2003 to 2009, the Democratic respondent to the 2008 State of the Union address, and chair-emerita of the Democratic Governors...


, the Secretary of Health and Human Services since April 28, 2009 and a former governor of Kansas.
Keith Sebelius

Keith Sebelius

Keith George Sebelius was an American politician who served in the U.S. House of Representatives from 1969 to 1981....


, former member of the United States House of Representatives

United States House of Representatives

The United States House of Representatives is one of the two Houses of the United States Congress, the bicameral legislature which also includes the Senate.The composition and powers of the House are established in Article One of the Constitution...


from Kansas from 1969 through 1981
Further reading
History of the State of Kansas; William G. Cutler; A.T. Andreas Publisher; 1883. (Online HTML eBook)
Kansas : A Cyclopedia of State History, Embracing Events, Institutions, Industries, Counties, Cities, Towns, Prominent Persons, Etc; 3 Volumes; Frank W. Blackmar; Standard Publishing Co; 944 / 955 / 824 pages; 1912. (Volume1 - Download 54MB PDF eBook),(Volume2 - Download 53MB PDF eBook), (Volume3 - Download 33MB PDF eBook)
External links
City
Schools
Maps