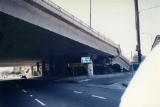 Northridge earthquake
The Northridge earthquake was a massive earthquake that occurred on January 17, 1994, at 04:31
Pacific Standard Time
Pacific Time Zone
The Pacific Time Zone observes standard time by subtracting eight hours from Coordinated Universal Time . The clock time in this zone is based on the mean solar time of the 120th meridian west of the Greenwich Observatory. During daylight saving time, its time offset is UTC-7.In the United States...
in
Reseda
Reseda, Los Angeles, California
Reseda is a San Fernando Valley district in the city of Los Angeles, California.-History:The area now known as Reseda was originally inhabited by Native Americans of the Tongva tribe that lived close to the Los Angeles River....
, a neighborhood in the city of
Los Angeles, California
Los Angeles, California
Los Angeles , with a population at the 2010 United States Census of 3,792,621, is the most populous city in California, USA and the second most populous in the United States, after New York City. It has an area of , and is located in Southern California...
, lasting for about 10–20 seconds. The
earthquake
Earthquake
An earthquake is the result of a sudden release of energy in the Earth's crust that creates seismic waves. The seismicity, seismism or seismic activity of an area refers to the frequency, type and size of earthquakes experienced over a period of time...
had a "strong"
moment magnitude
Moment magnitude scale
The moment magnitude scale is used by seismologists to measure the size of earthquakes in terms of the energy released. The magnitude is based on the seismic moment of the earthquake, which is equal to the rigidity of the Earth multiplied by the average amount of slip on the fault and the size of...
of 6.7, but the
ground acceleration
Peak ground acceleration
Peak ground acceleration is a measure of earthquake acceleration on the ground and an important input parameter for earthquake engineering, also known as the design basis earthquake ground motion...
was one of the highest ever instrumentally recorded in an urban area in North America, measuring 1.7 g (16.7 m/s
2
) with strong ground motion felt as far away as
Las Vegas, Nevada
Las Vegas, Nevada
Las Vegas is the most populous city in the U.S. state of Nevada and is also the county seat of Clark County, Nevada. Las Vegas is an internationally renowned major resort city for gambling, shopping, and fine dining. The city bills itself as The Entertainment Capital of the World, and is famous...
, over 270 miles (435 km) from the epicenter.