 Norra Bantorget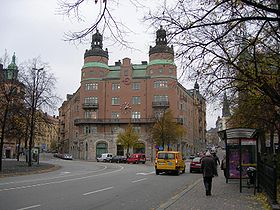 Norra Bantorget
is an area in central
Stockholm
Stockholm
Stockholm is the capital and the largest city of Sweden and constitutes the most populated urban area in Scandinavia. Stockholm is the most populous city in Sweden, with a population of 851,155 in the municipality , 1.37 million in the urban area , and around 2.1 million in the metropolitan area...
. It is the traditional
Social Democratic
Swedish Social Democratic Party
The Swedish Social Democratic Workers' Party, , contesting elections as 'the Workers' Party – the Social Democrats' , or sometimes referred to just as 'the Social Democrats' and most commonly as Sossarna ; is the oldest and largest political party in Sweden. The party was founded in 1889...
grounds of the
Swedish
Sweden
Sweden , officially the Kingdom of Sweden , is a Nordic country on the Scandinavian Peninsula in Northern Europe. Sweden borders with Norway and Finland and is connected to Denmark by a bridge-tunnel across the Öresund....
capital. It is the location of the
LO
headquarters, the
Swedish Trade Union Confederation
Swedish Trade Union Confederation
The Swedish Trade Union Confederation , commonly referred to as LO, is a national trade union centre, an umbrella organisation for fifteen Swedish trade unions that organise mainly "blue-collar" workers...
.
At Norra Bantorget is also the
Workers Movement's Archive and Library
, and
Folkets hus
(where Russian social democrats held their Fourth Congress in 1906). There are several monuments of working class leaders erected at Norra Bantorget, including a statue of
August Palm
August Palm
August Teodor Palm was a Swedish socialist activist and a key person in introducing the social democratic labour movement in Sweden, leading it in a reformist direction.-Early activism:...
and
the Branting Monument
The Branting Monument
The Branting Monument is a monument in Stockholm, Sweden, with a statue of the Swedish Social Democratic leader Hjalmar Branting . The monument is 5 meters tall and 6 meters wide....
. A street in the area is named after
Olof Palme
Olof Palme
Sven Olof Joachim Palme was a Swedish politician. A long-time protegé of Prime Minister Tage Erlander, Palme led the Swedish Social Democratic Party from 1969 to his assassination, and was a two-term Prime Minister of Sweden, heading a Privy Council Government from 1969 to 1976 and a cabinet...
.
Norra Bantorget is a traditional gathering spot for demonstrations, such as the ones arranged by the Social Democrats on
May Day
May Day
May Day on May 1 is an ancient northern hemisphere spring festival and usually a public holiday; it is also a traditional spring holiday in many cultures....
.
There is also a newly erected four-star Clarion hotel, Clarion Hotel Sign, located on the right side of the square as seen from the LO-building.