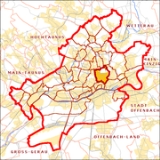 Nordend (Frankfurt am Main)
The
Nordend
is a district of the
German
Germany
Germany , officially the Federal Republic of Germany , is a federal parliamentary republic in Europe. The country consists of 16 states while the capital and largest city is Berlin. Germany covers an area of 357,021 km2 and has a largely temperate seasonal climate...
city of Frankfurt am Main. While it officially consists of the two administrative districts (
Stadtteile
)
Nordend-Ost
and
Nordend-West
, the "Nordend" is normally seen as one unit by the locals who live here. It is part of the
Ortsbezirk
Innenstadt III.
The Nordend is the most populous district of the financial capital of Germany with more than 54,000 residents. It is a popular neighbourhood for its bohemian mix of restaurants, cafés and bars. In the 60s and 70s of the 20th century, the Nordend was one of the centers of the student riots in Germany, along with Hamburg and Berlin. The former German foreign minister's
Joschka Fischer
Joschka Fischer
Joseph Martin "Joschka" Fischer is a German politician of the Alliance '90/The Greens. He served as Foreign Minister and Vice Chancellor of Germany in the cabinet of Gerhard Schröder from 1998 to 2005...
political career started here as a student leader for the Green Party. In the 2006 local elections, Fischer's Green Party became the biggest party in the local district assembly, called "Ortsbeirat". Together the two
Stadtteile
form part of the Ortsbezirk Innenstadt III (Frankfurt am Main).
Up until today, the Nordend has a vibrant mix of artists, working class people, students, drop-outs, and - as of recently - bankers and consultants. The students of the seventies still live here, but they are now best-agers with a high disposable income, which they spend in local wine stores and organic grocery stores.