 Nishiki-e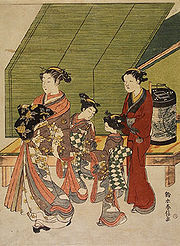 refers to Japanese multi-colored
woodblock printing
Woodblock printing
Woodblock printing is a technique for printing text, images or patterns used widely throughout East Asia and originating in China in antiquity as a method of printing on textiles and later paper....
; this technique is used primarily in
ukiyo-e
Ukiyo-e
' is a genre of Japanese woodblock prints and paintings produced between the 17th and the 20th centuries, featuring motifs of landscapes, tales from history, the theatre, and pleasure quarters...
. It was invented in the 1760s, and perfected and popularized by the printmaker
Suzuki Harunobu
Suzuki Harunobu
was a Japanese woodblock print artist, one of the most famous in the Ukiyo-e style. He was an innovator, the first to produce full-color prints in 1765, rendering obsolete the former modes of two- and three-color prints. Harunobu used many special techniques, and depicted a wide variety of...
, who produced a great many
nishiki-e
prints between 1765 and his death five years later.
Previously, most prints had been in black-and-white, colored by hand, or colored with the addition of one or two color ink blocks. A
nishiki-e
print is created by carving a separate woodblock for every color, and using them in a stepwise fashion. An engraver by the name of Kinroku is credited with the technical innovations that allowed so many blocks of separate colors to fit perfectly onto the page where they ought to, relative to one another, in order to create a single complete image.
This style and technique is also known as , referring to
Edo
Edo
, also romanized as Yedo or Yeddo, is the former name of the Japanese capital Tokyo, and was the seat of power for the Tokugawa shogunate which ruled Japan from 1603 to 1868...
, the capital city of the time.
Nishiki-e in Meiji era
In the
Meiji period
Meiji period
The , also known as the Meiji era, is a Japanese era which extended from September 1868 through July 1912. This period represents the first half of the Empire of Japan.- Meiji Restoration and the emperor :...
, various
nishiki-e
illustrated new fashions, imported goods, events, the railroad, and other new topics. "Newspaper Nishiki-e" (新聞錦絵,
shinbun nishiki-e
) were very popular among the public during this period. Print designers created
nishiki-e
on topics picked up from the newspapers such as
Tokyo Nichinichi shinbun
or
Yūbin Hochi shinbun
.
External links
Ukiyo-e Caricatures 1842-1905 Database of the Department of East Asian Studies of the University of Vienna. All pictures of the database are nishiki-e.
http://221.191.65.126/list_f?clscd=2010220Nishiki-e collection from Edo-Tokyo Museum

Edo-Tokyo Museum

The is a museum of the history of Tokyo, established in 1993. The main features of the permanent exhibitions are the life-size replica of the Nihonbashi, which was the bridge leading into Edo; the Nakamuraza theatre; scale models of town; and buildings from the Edo, Meiji and Shōwa periods.The...


]