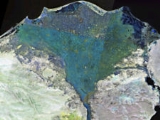 Nile Delta
The
Nile Delta
is the
delta
River delta
A delta is a landform that is formed at the mouth of a river where that river flows into an ocean, sea, estuary, lake, reservoir, flat arid area, or another river. Deltas are formed from the deposition of the sediment carried by the river as the flow leaves the mouth of the river...
formed in Northern
Egypt
Egypt
Egypt , officially the Arab Republic of Egypt, Arabic: , is a country mainly in North Africa, with the Sinai Peninsula forming a land bridge in Southwest Asia. Egypt is thus a transcontinental country, and a major power in Africa, the Mediterranean Basin, the Middle East and the Muslim world...
(
Lower Egypt
Lower Egypt
Lower Egypt is the northern-most section of Egypt. It refers to the fertile Nile Delta region, which stretches from the area between El-Aiyat and Zawyet Dahshur, south of modern-day Cairo, and the Mediterranean Sea....
) where the
Nile
Nile
The Nile is a major north-flowing river in North Africa, generally regarded as the longest river in the world. It is long. It runs through the ten countries of Sudan, South Sudan, Burundi, Rwanda, Democratic Republic of the Congo, Tanzania, Kenya, Ethiopia, Uganda and Egypt.The Nile has two major...
River spreads out and drains into the
Mediterranean Sea
Mediterranean Sea
The Mediterranean Sea is a sea connected to the Atlantic Ocean surrounded by the Mediterranean region and almost completely enclosed by land: on the north by Anatolia and Europe, on the south by North Africa, and on the east by the Levant...
. It is one of the world's largest river deltas—from
Alexandria
Alexandria
Alexandria is the second-largest city of Egypt, with a population of 4.1 million, extending about along the coast of the Mediterranean Sea in the north central part of the country; it is also the largest city lying directly on the Mediterranean coast. It is Egypt's largest seaport, serving...
in the west to
Port Said
Port Said
Port Said is a city that lies in north east Egypt extending about 30 km along the coast of the Mediterranean Sea, north of the Suez Canal, with an approximate population of 603,787...
in the east, it covers some 240 km of Mediterranean coastline—and is a rich agricultural region. From north to south the delta is approximately 160 km in length. The Delta begins slightly down-river from
Cairo
Cairo
Cairo , is the capital of Egypt and the largest city in the Arab world and Africa, and the 16th largest metropolitan area in the world. Nicknamed "The City of a Thousand Minarets" for its preponderance of Islamic architecture, Cairo has long been a centre of the region's political and cultural life...
.
From north to south the delta is approximately 160 km in length.