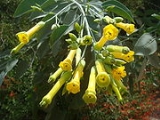 Nicotiana glauca
Nicotiana glauca
is a species of
wild tobacco
Nicotiana
Nicotiana is a genus of herbs and shrubs of the nightshade family indigenous to North and South America, Australia, south west Africa and the South Pacific. Various Nicotiana species, commonly referred to as tobacco plants, are cultivated and grown to produce tobacco. Of all Nicotiana species,...
known by the common names
tree tobacco
and incorrectly also
Mustard tree
Salvadora persica
Salvadora persica , is a species of Salvadora....
. Its leaves are attached to the stalk by
petioles
Petiole (botany)
In botany, the petiole is the stalk attaching the leaf blade to the stem. The petiole usually has the same internal structure as the stem. Outgrowths appearing on each side of the petiole are called stipules. Leaves lacking a petiole are called sessile, or clasping when they partly surround the...
(many other
Nicotiana
species have sessile leaves), and its leaves and stems are neither pubescent nor sticky like
Nicotiana tabacum
Nicotiana tabacum
Nicotiana tabacum, or cultivated tobacco, is a perennial herbaceous plant. It is found only in cultivation, where it is the most commonly grown of all plants in the Nicotiana genus, and its leaves are commercially grown in many countries to be processed into tobacco. It grows to heights between 1...
. It grows to heights of more than two meters.
Tree tobacco is native to South America but it is now widespread as an
introduced species
Introduced species
An introduced species — or neozoon, alien, exotic, non-indigenous, or non-native species, or simply an introduction, is a species living outside its indigenous or native distributional range, and has arrived in an ecosystem or plant community by human activity, either deliberate or accidental...
on other continents. It is a common roadside weed in the
southwestern United States
Southwestern United States
The Southwestern United States is a region defined in different ways by different sources. Broad definitions include nearly a quarter of the United States, including Arizona, California, Colorado, Nevada, New Mexico, Oklahoma, Texas and Utah...
, and an
invasive plant species
Invasive species
"Invasive species", or invasive exotics, is a nomenclature term and categorization phrase used for flora and fauna, and for specific restoration-preservation processes in native habitats, with several definitions....
in
California
California
California is a state located on the West Coast of the United States. It is by far the most populous U.S. state, and the third-largest by land area...
native plant
California native plants
California native plants are plants that existed in California prior to the arrival of European explorers and colonists in the late 18th century...
habitats.
The plant is used for a variety of
medicinal purposes
Herbalism
Herbalism is a traditional medicinal or folk medicine practice based on the use of plants and plant extracts. Herbalism is also known as botanical medicine, medical herbalism, herbal medicine, herbology, herblore, and phytotherapy...
and
smoked
Tobacco smoking
Tobacco smoking is the practice where tobacco is burned and the resulting smoke is inhaled. The practice may have begun as early as 5000–3000 BCE. Tobacco was introduced to Eurasia in the late 16th century where it followed common trade routes...
by Native American groups. It is being investigated for use as a
biofuel
Biofuel
Biofuel is a type of fuel whose energy is derived from biological carbon fixation. Biofuels include fuels derived from biomass conversion, as well as solid biomass, liquid fuels and various biogases...
.
External links