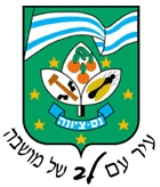 Ness Ziona
Ness Ziona
is a city in
central
Center District (Israel)
The Central District of Israel is one of six administrative districts, including most of the Sharon region. The district capital is Ramla. It is further divided into 4 sub-districts: Petah Tikva, Ramla, Sharon and Rehovot. The district's largest city is Rishon LeZion. Its population as of 2008 was...
Israel
Israel
The State of Israel is a parliamentary republic located in the Middle East, along the eastern shore of the Mediterranean Sea...
founded in 1883. At the end of 2009 the city had a total population of 38,100, and its jurisdiction was 15,579
dunam
Dunam
A dunam or dönüm, dunum, donum, dynym, dulum was a non-SI unit of land area used in the Ottoman Empire and representing the amount of land that can be plowed in a day; its value varied from 900–2500 m²...
s.
Ness Ziona was first known as Nahalat Reuben (lit. "Reuben's Estate") after Reuben Lehrer, who owned the land. In 1878, the
Templer
Templers (religious believers)
Templers are members of the Temple Society , a German Protestant sect with roots in the Pietist movement of the Lutheran Church. The Templers were expelled from the church in 1858 because of their millennial beliefs. Their aim was to realize the apocalyptic visions of the prophets of Israel in the...
Reisler purchased lands in
Wadi Hunayn
Wadi Hunayn
Wadi Hunayn was a Palestinian Arab village in the District of Ramla. It was located 9 km west of Ramla. According to a local tradition, it was named after the Yemeni home of the Qada'a tribe who settled here in the early Islamic period....
, planted an orchard, and lived there with his family. After his wife and children died of malaria, he returned to Europe.