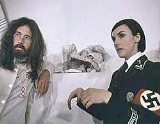 Neil Innes
Neil James Innes
is an English writer and
performer
Performing arts
The performing arts are those forms art which differ from the plastic arts insofar as the former uses the artist's own body, face, and presence as a medium, and the latter uses materials such as clay, metal or paint which can be molded or transformed to create some physical art object...
of comic songs, best known for his collaborative work with
Monty Python
Monty Python
Monty Python was a British surreal comedy group who created their influential Monty Python's Flying Circus, a British television comedy sketch show that first aired on the BBC on 5 October 1969. Forty-five episodes were made over four series...
, and for playing in the
Bonzo Dog Doo-Dah Band
Bonzo Dog Doo-Dah Band
The Bonzo Dog Doo-Dah Band are a band created by a group of British art-school denizens of the 1960s...
and later
The Rutles
The Rutles
The Rutles are a band that are known for their visual and aural pastiches and parodies of The Beatles. Originally created by Eric Idle and Neil Innes as a fictional band to be featured as part of various 1970s television programming, the group recorded, toured, and released two UK chart hits in...
.
Innes spent a good part of his childhood with his parents and two-year-older brother Iain in post-war Germany during his Scottish father's military assignment as a warrant officer. He took piano lessons from age 7 to 14. He taught himself to play guitar.
How sweet to be an idiotAat my back With no fear of attack As much retaliation as a toy

How sweet to be an idiot (1973)