 Ned Ludd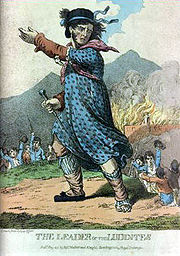 Ned Ludd
or
Ned Lud
, possibly born
Ned Ludlam
or
Edward Ludlam
, is the person from whom the
Luddite
Luddite
The Luddites were a social movement of 19th-century English textile artisans who protested – often by destroying mechanised looms – against the changes produced by the Industrial Revolution, which they felt were leaving them without work and changing their way of life...
s took their name. His actions inspirated the folkloric character of Captain Ludd, also known as King Ludd or General Ludd, who became the Luddites' alleged leader and founder.
It is believed that Ned Ludd came from the village of
Anstey
Anstey, Leicestershire
Anstey is a large semi-industrialised village in Leicestershire, England, located north west of Leicester in the borough of Charnwood. Its population was about 6,000 at the 2001 census although this is likely to have increased...
, just outside
Leicester
Leicester
Leicester is a city and unitary authority in the East Midlands of England, and the county town of Leicestershire. The city lies on the River Soar and at the edge of the National Forest...
in England.
The incident that inspired his transformation from an 18th-century common man to a 19th-century hero of the
proletariat
Proletariat
The proletariat is a term used to identify a lower social class, usually the working class; a member of such a class is proletarian...
occurred when he broke two
stocking frame
Stocking frame
A stocking frame was a mechanical knitting machine used in the textiles industry. It was invented by William Lee of Calverton near Nottingham in 1589...
s in a fit of rage. This is identified as having happened in 1779, not at the time of the Luddites in the 1810s.
History
Supposedly, Ned Lud was a weaver from Anstey, who in 1779, either after being whipped for idleness, or after being taunted by local youths, smashed two knitting frames in what was described as a "fit of passion". However, some accounts say that Lud was told by his father, a framework-knitter, to "square his needles". Lud took a hammer and "beat them into a heap". News of the incident spread, and whenever frames were sabotaged, people would jokingly say "Ned Ludd did it".
By 1812, the organized frame-breakers who became known as the Luddites had begun using the name King Ludd or Captain Dick for their mythical leader.
In popular culture
Music
The character of Ned Ludd is commemorated in the folk ballad "General Ludd's Triumph." Chumbawamba

Chumbawamba

Chumbawamba is a British musical group who have, over a career spanning nearly three decades, played punk rock, pop-influenced music, world music, and folk music...


recorded a version of this song on their 2003 release, English Rebel Songs 1381–1984.
Robert Calvert

Robert Calvert

Robert Calvert was a writer, poet, and musician.-Biography:Born Robert Newton Calvert in Pretoria, South Africa, Calvert's parents moved to England when he was two years of age and later attended school in London and Margate. He began his career by writing poetry and in 1967 formed a Street...


wrote and recorded another song "Ned Ludd," which appeared on his 1985 album Freq; which includes the lyrics:
They said Ned Ludd was an idiot boy
That all he could do was wreck and destroy, and
He turned to his workmates and said: Death to Machines
They tread on our future and they stamp on our dreams.
Steeleye Span

Steeleye Span

Steeleye Span are an English folk-rock band, formed in 1969 and remaining active today. Along with Fairport Convention they are amongst the best known acts of the British folk revival, and were among the most commercially successful, thanks to their hit singles "Gaudete" and "All Around My Hat"....


's 2006 album Bloody Men has a five-part section on the subject of Ned Ludd.
The Heaven Shall Burn

Heaven Shall Burn

Heaven Shall Burn is a German heavy metal band from Saalfeld, formed in 1996. They combine an aggressive metal sound with lyrics that show a militant support of anti-racism and fighting social injustice. All members of the band are vegan.-Biography:...


song "The Final March" has a direct reference to Captain Ludd.
Alt-country band The Gourds

The Gourds

The Gourds are an American alternative country band that formed in Austin, Texas during the summer of 1994.-Career:Primarily evolving from the Picket Line Coyotes and the Grackles, The Gourds original line-up consisted of Kevin Russell , Jimmy Smith , Claude Bernard , and Charlie Llewellin...


affectionately refer to Ned Ludd as "Uncle Ned" in the song "Luddite Juice" off their 2009 release, Haymaker.
The Scottish folk musician Alasdair Roberts sings of Ned Ludd in his song "Ned Ludd's Rant (For World Rebarbarised)" on his 2009 album, Spoils.
Literature
Edmund Cooper

Edmund Cooper

Edmund Cooper was an English poet and prolific writer of speculative fiction, romances, technical essays, several detective stories, and a children's book. These were published under his own name and several pen names...


's alternative-history The Cloud Walker is set in a world where the Luddite ethos has given rise to a religious hierarchy which dominates English society and sets carefully prescribed limits on technology. A hammer – the tool supposedly used by Ned Ludd – is a religious symbol, and Ned Ludd is seen as a divine, messianic figure.
The novel The Monkey Wrench Gang

The Monkey Wrench Gang

The Monkey Wrench Gang is a novel written by American author Edward Abbey , published in 1975.Easily Abbey's most famous fiction work, the novel concerns the use of sabotage to protest environmentally damaging activities in the American Southwest, and was so influential that the term "monkeywrench"...


(1975), by Edward Abbey

Edward Abbey

Edward Paul Abbey was an American author and essayist noted for his advocacy of environmental issues, criticism of public land policies, and anarchist political views. His best-known works include the novel The Monkey Wrench Gang, which has been cited as an inspiration by radical environmental...


, is dedicated to Ned Ludd.
Thomas Pynchon

Thomas Pynchon

Thomas Ruggles Pynchon, Jr. is an American novelist. For his most praised novel, Gravity's Rainbow, Pynchon received the National Book Award, and is regularly cited as a contender for the Nobel Prize in Literature...


wrote an essay entitled "Is it O.K. to be a Luddite?" in 1984, discussing the historical Luddites in the light of the 25th anniversary of C. P. Snow

C. P. Snow

Charles Percy Snow, Baron Snow of the City of Leicester CBE was an English physicist and novelist who also served in several important positions with the UK government...


's influential lecture The Two Cultures

The Two Cultures

The Two Cultures is the title of an influential 1959 Rede Lecture by British scientist and novelist C. P. Snow. Its thesis was that "the intellectual life of the whole of western society" was split into the titular two cultures—namely the sciences and the humanities—and that this was a major...


.
Anne Finger wrote a collection of short stories titled Call Me Ahab about famous disabled historical and literary figures, which included the story "Our Ned" about Ned Ludd.
Ecodefense: A Field Guide To Monkeywrenching

Ecodefense

Ecodefense: A Field Guide To Monkeywrenching is a book edited by Dave Foreman, with a foreword by Edward Abbey.- Background :Ned Ludd Books published the first two editions, with Abbzug Press publishing a third edition...


was published by Ned Ludd Book. Much of the content came from the "Dear Ned Ludd" column in the newsletter of the group Earth First!

Earth First!

Earth First! is a radical environmental advocacy group that emerged in the Southwestern United States in 1979. It was co-founded on April 4th, 1980 by Dave Foreman, Mike Roselle, Howie Wolke, and less directly, Bart Koehler and Ron Kezar....


.
Stephen King

Stephen King

Stephen Edwin King is an American author of contemporary horror, suspense, science fiction and fantasy fiction. His books have sold more than 350 million copies and have been adapted into a number of feature films, television movies and comic books...


's The Dark Tower

The Dark Tower (series)

The Dark Tower is a series of books written by American author Stephen King, which incorporates themes from multiple genres, including fantasy, science fantasy, horror and western. It describes a "Gunslinger" and his quest toward a tower, the nature of which is both physical and metaphorical. King...


contains a metropolis called Lud

Lud (city)

Lud is a fictional city in Stephen King's Dark Tower series and is briefly mentioned in Rose Madder. In The Dark Tower III: The Waste Lands, the book's protagonists, led by the gunslinger Roland, travel from Lud to an alternate reality version of Topeka, Kansas via a supersonic monorail called...


.