 Nectarivore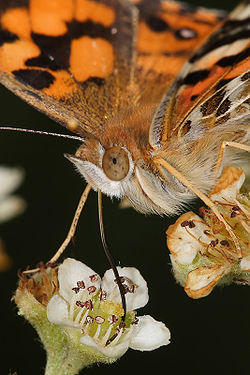 In
zoology
Zoology
Zoology |zoölogy]]), is the branch of biology that relates to the animal kingdom, including the structure, embryology, evolution, classification, habits, and distribution of all animals, both living and extinct...
,
nectarivore
is an animal which eats the sugar-rich nectar produced by
flower
Flower
A flower, sometimes known as a bloom or blossom, is the reproductive structure found in flowering plants . The biological function of a flower is to effect reproduction, usually by providing a mechanism for the union of sperm with eggs...
ing plants. Most nectarivores are insects or birds, but there are also nectarivorous mammals, notably several species of
bat
Bat
Bats are mammals of the order Chiroptera "hand" and pteron "wing") whose forelimbs form webbed wings, making them the only mammals naturally capable of true and sustained flight. By contrast, other mammals said to fly, such as flying squirrels, gliding possums, and colugos, glide rather than fly,...
s in the
Southwestern United States
Southwestern United States
The Southwestern United States is a region defined in different ways by different sources. Broad definitions include nearly a quarter of the United States, including Arizona, California, Colorado, Nevada, New Mexico, Oklahoma, Texas and Utah...
and
Mexico
Mexico
The United Mexican States , commonly known as Mexico , is a federal constitutional republic in North America. It is bordered on the north by the United States; on the south and west by the Pacific Ocean; on the southeast by Guatemala, Belize, and the Caribbean Sea; and on the east by the Gulf of...
, as well as the Australian
Honey Possum
Honey Possum
The honey possum or tait, its Native Australian name or noolbenger is a tiny Australian marsupial weighing just seven to eleven grams for the male, and eight to sixteen grams for the female—about half the weight of a mouse. Their physical size ranges from a body length of between 6.5 –...
(
T. rostratus
), and Geckos (genus
Phesulma
) in
Mauritius
Mauritius
Mauritius , officially the Republic of Mauritius is an island nation off the southeast coast of the African continent in the southwest Indian Ocean, about east of Madagascar...
. The term is less exclusive than other -vores; many animals that are considered
nectarivorous
may also be
insectivorous
Insectivore
An insectivore is a type of carnivore with a diet that consists chiefly of insects and similar small creatures. An alternate term is entomophage, which also refers to the human practice of eating insects....
. Many species are
nectar robbers
Nectar robbing
Nectar robbing refers to the act by an animal, typically an insect or a bird, of removing nectar from a flowering plant, most often by drilling a hole in the corolla. In this way animals without morphological adaptations required by the structure of the flower may access nectar...
, performing no pollination services to a plant while still consuming nectar.
Ecology
Many nectarivores have morphological features that are closely adapted to the geometries of flowers on which they feed.