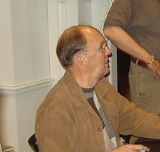 Neal Boortz
Neal A. Boortz, Jr.
is an American Libertarian
radio host
Radio personality
A radio personality is a person with an on-air position in radio broadcasting. A radio personality can be someone who introduces and discusses various genres of music, hosts a talk radio show that may take calls from listeners, or someone whose primary responsibility is to give news, weather,...
, author, and political commentator. His nationally syndicated
talk show
Talk radio
Talk radio is a radio format containing discussion about topical issues. Most shows are regularly hosted by a single individual, and often feature interviews with a number of different guests. Talk radio typically includes an element of listener participation, usually by broadcasting live...
,
The Neal Boortz Show
, airs throughout the United States on
Dial Global
Dial Global
Dial Global is a radio syndication company. It is a wholly owned subsidiary of Triton Media Group and is a sister company to Townsquare Media, both of which are owned by Oaktree Capital Management....
(formerly
Jones Radio Networks
Jones Radio Networks
Jones Radio Networks & Jones Media Group were branches of Jones International before being sold to Triton Media Group. JRN and JMN provide local radio stations with satellite-delivered formats. They also offer other services to local radio such as news and talk programs, syndicated radio shows,...
). It is ranked seventh in overall listeners, with 4.25+ million per week. The content of the show centers on politics, current events, social issues and miscellaneous topics of interest, which Boortz discusses with callers, correspondents and guests.
Logic cannot support the premise that health care is a right. Health care is a service that is administered by another human being with the requisite skills and knowledge. To claim that healthcare as a "right" is to claim a right to the services of the health-care provider. In effect, this means you are claiming a "right" to a portion of that person's life – both a portion of the time already spent developing his skills, and a portion of the time spent practicing those skills on you. .