 Naval base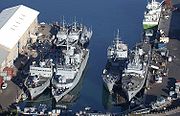 A
naval base
is a
military base
Military base
A military base is a facility directly owned and operated by or for the military or one of its branches that shelters military equipment and personnel, and facilitates training and operations. In general, a military base provides accommodations for one or more units, but it may also be used as a...
, where
warship
Warship
A warship is a ship that is built and primarily intended for combat. Warships are usually built in a completely different way from merchant ships. As well as being armed, warships are designed to withstand damage and are usually faster and more maneuvrable than merchant ships...
s and
naval ship
Naval ship
A naval ship is a ship used for combat purposes, commonly by a navy. Naval ships are differentiated from civilian ships by construction and purpose...
s are deployed when they have no mission at sea or want to restock. Usually ships may also perform some minor repairs. Some naval bases are temporary homes to aircraft that usually stay on the ships but are undergoing maintenance while the ship is in port.