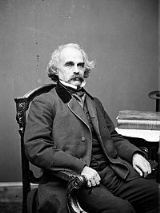 Nathaniel Hawthorne
Nathaniel Hawthorne
was an American novelist and short story writer.
Nathaniel Hawthorne was born in 1804 in the city of
Salem
Salem, Massachusetts
Salem is a city in Essex County, Massachusetts, United States. The population was 40,407 at the 2000 census. It and Lawrence are the county seats of Essex County...
,
Massachusetts
Massachusetts
The Commonwealth of Massachusetts is a state in the New England region of the northeastern United States of America. It is bordered by Rhode Island and Connecticut to the south, New York to the west, and Vermont and New Hampshire to the north; at its east lies the Atlantic Ocean. As of the 2010...
to Nathaniel Hathorne and the former Elizabeth Clarke Manning. His ancestors include
John Hathorne
John Hathorne
John Hathorne was an executor in the Salem witch trials, and the only one who never repented of his actions. He was also a merchant in Salem, Massachusetts....
, a judge during the
Salem Witch Trials
Salem witch trials
The Salem witch trials were a series of hearings before county court trials to prosecute people accused of witchcraft in the counties of Essex, Suffolk, and Middlesex in colonial Massachusetts, between February 1692 and May 1693...
. Nathaniel later added a "w" to make his name "Hawthorne". He entered
Bowdoin College
Bowdoin College
Bowdoin College , founded in 1794, is an elite private liberal arts college located in the coastal Maine town of Brunswick, Maine. As of 2011, U.S. News and World Report ranks Bowdoin 6th among liberal arts colleges in the United States. At times, it was ranked as high as 4th in the country. It is...
in 1821, was elected to Phi Beta Kappa in 1824, and graduated in 1825.
Amid the seeming confusion of our mysterious world, individuals are so nicely adjusted to a system, and systems to one another and to a whole, that, by stepping aside for a moment, a man exposes himself to a fearful risk of losing his place forever.

wikisource:Wakefield|"Wakefield" (1835) from wikisource:Twice _Told_Tales|Twice Told Tales (1837, 1851)
Long, long may it be, ere he comes again! His hour is one of darkness, and adversity, and peril. But should domestic tyranny oppress us, or the invader's step pollute our soil, still may the Gray Champion come, for he is the type of New England's hereditary spirit; and his shadowy march, on the eve of danger, must ever be the pledge, that New England's sons will vindicate their ancestry.

wikisource:The Gray Champion|"The Gray Champion" (1835) from Twice Told Tales (1837, 1851)
By the sympathy of your human hearts for sin ye shall scent out all the places — whether in church, bedchamber, street, field, or forest — where crime has been committed, and shall exult to behold the whole earth one stain of guilt, one mighty blood spot.

wikisource:Young_Goodman_Brown|"Young Goodman Brown" (1835) from wikisource:Mosses_from_an_Old_Manse|Mosses from an Old Manse (1846)
As the moral gloom of the world overpowers all systematic gaiety, even so was their home of wild mirth made desolate amid the sad forest.

wikisource:The_Maypole_of_Merry_Mount|"The Maypole of Merry Mount" (1836) from Twice-Told Tales (1837, 1851)
I have not lived, but only dreamed about living.

Letter to Henry Wadsworth Longfellow (4 June 1837)
As far as my experience goes, men of genius are fairly gifted with the social qualities; and in this age, there appears to be a fellow-feeling among them, which had not heretofore been developed. As men, they ask nothing better than to be on equal terms with their fellow-men; and as authors, they have thrown aside their proverbial jealousy, and acknowledge a generous brotherhood.

"The Hall of Fantasy" (1843)
She poured out the liquid music of her voice to quench the thirst of his spirit.

wikisource:The_Birth-mark|"The Birthmark" from Mosses from an Old Manse (1846)