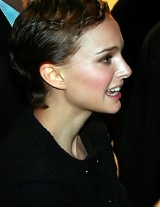 Natalie Portman
Natalie Hershlag
better known by her stage name
Natalie Portman
, is an actress with dual American and Israeli citizenship. Her first role was as an orphan taken in by a hitman in the 1994 French action film
Léon
Léon (film)
Léon is a 1994 French thriller film written and directed by Luc Besson...
, but major success came when she was cast as
Padmé Amidala
Padmé Amidala
Padmé Amidala is a fictional character in the Star Wars science fiction franchise. She first appeared on film in the 1999 feature film, Star Wars Episode I: The Phantom Menace, as the young queen of the planet Naboo. In subsequent prequel trilogy films, Padmé represents Naboo in the Galactic Senate...
in the Star Wars prequel trilogy (released in 1999, 2002 and 2005). In 1999, she enrolled at
Harvard University
Harvard University
Harvard University is a private Ivy League university located in Cambridge, Massachusetts, United States, established in 1636 by the Massachusetts legislature. Harvard is the oldest institution of higher learning in the United States and the first corporation chartered in the country...
to study psychology while still working as an actress.
I grew up in the classic American-Jewish suburbia, which has a whole different sense of what it means to be Jewish than anywhere else in the world.

You know, I get much more Jewish in Israel because I like the way that religion is done there.

I had a fashion designer tell me that when I wear a dress of his, it sells out across the country because Jewish girls 'look to me,' and Jewish girls are the ones that buy expensive dresses. It made me sad, because I want to be an influence in ways other than by a pretty dress.

There's so much goodness there, and such a value placed on education, which is sort of universal among Jews around the world. I appreciate that obviously, to be a part of that.

My response was that more than half of Israelis are of Sephardic origin. Many of these Jews come from Arab lands and share the same physical skin color.

On allegations of racism in Israel
I'd like it if people thought I was Jewish-looking.