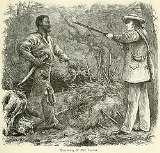 Nat Turner
Nathaniel "Nat" Turner
(October 2, 1800 – November 11, 1831) was an American slave who led a slave rebellion in Virginia on August 21, 1831 that resulted in 60 white deaths and at least 100 black deaths, the largest number of fatalities to occur in one uprising prior to the
American Civil War
American Civil War
The American Civil War was a civil war fought in the United States of America. In response to the election of Abraham Lincoln as President of the United States, 11 southern slave states declared their secession from the United States and formed the Confederate States of America ; the other 25...
in the
southern United States
Southern United States
The Southern United States—commonly referred to as the American South, Dixie, or simply the South—constitutes a large distinctive area in the southeastern and south-central United States...
. He gathered supporters in
Southampton County, Virginia
Southampton County, Virginia
As of the census of 2010, there were 18,570 people, 6,279 households, and 4,502 families residing in the county. The population density was 29 people per square mile . There were 7,058 housing units at an average density of 12 per square mile...
. Turner was convicted, sentenced to death, and hanged. In the aftermath, the state executed 56 blacks accused of being part of Turner's slave rebellion.
And my father and mother strengthened me in this my first impression, saying in my presence, I was intended for some great purpose, which they had always thought from certain marks on my head and breast

My grand mother, who was very religious, and to whom I was much attached - my master, who belonged to the church, and other religious persons who visited the house, and whom I often saw at prayers, noticing the singularity of my manners, I suppose, and my uncommon intelligence for a child, remarked I had too much sense to be raised – and if I was, I would never be of any service to any one – as a slave

The manner in which I learned to read and write, not only had great influence on my own mind, as I acquired it with the most perfect ease, so much so, that I have no recollection whatever of learning the alphabet

Having soon discovered to be great, I must appear so, and therefore studiously avoided mixing in society, and wrapped myself in mystery, devoting my time to fasting and prayer.

...I was struck with that particular passage which says: "Seek ye the kingdom of Heaven and all things shall be added unto you."

And about this time I had a vision - and I saw white spirits and black spirits engaged in battle, and the sun was darkened – the thunder rolled in the Heavens, and blood flowed in streams – and I heard a voice saying, "Such is your luck, such you are called to see, and let it come rough or smooth, you must surely bear it."

For as the blood of Christ had been shed on this earth, and had ascended to heaven for the salvation of sinners, and was now returning to earth again in the form of dew - and as the leaves on the trees bore the impression of the figures I had seen in the heavens, it was plain to me that the Saviour was about to lay down the yoke he had borne for the sins of men, and the great day of judgement was at hand.