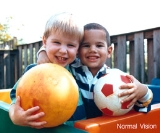 Myopia
Myopia
is a
refractive defect
Refractive error
A refractive error, or refraction error, is an error in the focusing of light by the eye and a frequent reason for reduced visual acuity.-Classification:...
of the
eye
Human eye
The human eye is an organ which reacts to light for several purposes. As a conscious sense organ, the eye allows vision. Rod and cone cells in the retina allow conscious light perception and vision including color differentiation and the perception of depth...
in which
collimated light
Collimated light
Collimated light is light whose rays are parallel, and therefore will spread slowly as it propagates. The word is related to "collinear" and implies light that does not disperse with distance , or that will disperse minimally...
produces image
focus
Focus (optics)
In geometrical optics, a focus, also called an image point, is the point where light rays originating from a point on the object converge. Although the focus is conceptually a point, physically the focus has a spatial extent, called the blur circle. This non-ideal focusing may be caused by...
in front of the
retina
Retina
The vertebrate retina is a light-sensitive tissue lining the inner surface of the eye. The optics of the eye create an image of the visual world on the retina, which serves much the same function as the film in a camera. Light striking the retina initiates a cascade of chemical and electrical...
under conditions of
accommodation
Accommodation (eye)
Accommodation is the process by which the vertebrate eye changes optical power to maintain a clear image on an object as its distance changes....
. In simpler terms, myopia is a condition of the eye where the light that comes in does not directly focus on the retina but in front of it. This causes the image that one sees when looking at a distant object to be out of focus but in focus when looking at a close object.
Eye care professional
Eye care professional
An eye care professional is an individual who provides a service related to the eyes or vision. It is a general term that can refer to any healthcare worker involved in eye care, from one with a small amount of post-secondary training to practitioners with a doctoral level of education.-Current...
s most commonly correct myopia through the use of
corrective lens
Corrective lens
A corrective lens is a lens worn in front of the eye, mainly used to treat myopia, hyperopia, astigmatism, and presbyopia. Glasses or "spectacles" are worn on the face a short distance in front of the eye. Contact lenses are worn directly on the surface of the eye...
es, such as
glasses
Glasses
Glasses, also known as eyeglasses , spectacles or simply specs , are frames bearing lenses worn in front of the eyes. They are normally used for vision correction or eye protection. Safety glasses are a kind of eye protection against flying debris or against visible and near visible light or...
or
contact lens
Contact lens
A contact lens, or simply contact, is a lens placed on the eye. They are considered medical devices and can be worn to correct vision, for cosmetic or therapeutic reasons. In 2004, it was estimated that 125 million people use contact lenses worldwide, including 28 to 38 million in the United...
es.