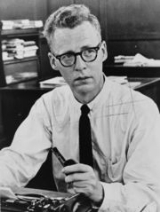 Murray Kempton
James Murray Kempton
was an influential, Pulitzer Prize-winning
American
United States
The United States of America is a federal constitutional republic comprising fifty states and a federal district...
journalist
Journalist
A journalist collects and distributes news and other information. A journalist's work is referred to as journalism.A reporter is a type of journalist who researchs, writes, and reports on information to be presented in mass media, including print media , electronic media , and digital media A...
.
Kempton was born in Baltimore on December 16, 1917. His mother was Sally Ambler and his father was James Branson Kempton, a stock broker. Kempton's father died of influenza shortly after his birth, leaving the family in financial straits.
Kempton worked as a copyboy for
H. L. Mencken
H. L. Mencken
Henry Louis "H. L." Mencken was an American journalist, essayist, magazine editor, satirist, acerbic critic of American life and culture, and a scholar of American English. Known as the "Sage of Baltimore", he is regarded as one of the most influential American writers and prose stylists of the...
at the
Baltimore Evening Sun
.
"One does not attend this movie [The Ten Commandments]; one enlists in it."

"The faces in New York remind me of people who had played a game and lost."

"Great care has gone into the construction of the shadow which declares itself to be Richard Nixon."

"If you talk to gangsters long enough, you'll find out they're just as bad as respectable people."

"In baseball, the true class enemy is not the boss, but the fan." Category:Journalists|Kempton, Murray Category:Authors|Kempton, Murray