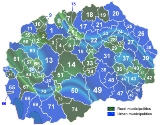 Municipalities of the Republic of Macedonia
The
Municipalities of the Republic of Macedonia
are first-order
administrative division
Administrative division
An administrative division, subnational entity, or country subdivision is a portion of a country or other political division, established for the purpose of government. Administrative divisions are each granted a certain degree of autonomy, and are required to manage themselves through their own...
s. In August 2004, the
Republic of Macedonia
Republic of Macedonia
Macedonia , officially the Republic of Macedonia , is a country located in the central Balkan peninsula in Southeast Europe. It is one of the successor states of the former Yugoslavia, from which it declared independence in 1991...
was reorganised into 84
municipalities
Municipality
A municipality is essentially an urban administrative division having corporate status and usually powers of self-government. It can also be used to mean the governing body of a municipality. A municipality is a general-purpose administrative subdivision, as opposed to a special-purpose district...
; 10 of the municipalities constitute the City of Skopje (or Greater Skopje), a distinct unit of local
self-government
Self-governance
Self-governance is an abstract concept that refers to several scales of organization.It may refer to personal conduct or family units but more commonly refers to larger scale activities, i.e., professions, industry bodies, religions and political units , up to and including autonomous regions and...
and the country's capital.
Most of the current municipalities were unaltered or merely amalgamated from the previous 123 municipalities established in September 1996; others were consolidated and their borders changed. Prior to this, local government was organised into 34 administrative districts, communes, or counties (also
opštini
).
In turn, Macedonia is subdivided into eight statistical regions (регион,
regioni
), based on the prior municipal/county framework; one of these regions, Skopje, encompasses Greater Skopje and the surrounding area.
Map
Map of the municipalities of the Republic of Macedonia, with the city of Skopje indicated on the map as
1
.
The map shows the rural and the urban municipalities. The numbers of the map correspond with the numbers of the municipalities indicated to the left of the municipality name in the table below the maps, the second one is a map of the City of Skopje municipalities, the numbers of this municipalities are shown as
1, x
, where "x" is the number of the appropriate municipality.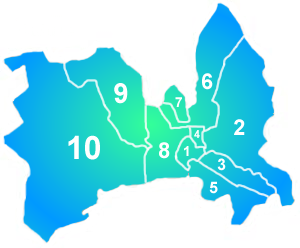 Municipalities (2004–present)
№
(Реден
броj)
Municipality
(Општина)
Municipality Center
(Центар на Општината)
(km²)
Population
(2002)
Eastern

Eastern statistical region

The Eastern Statistical Region is one of eight arbitrary statistical regions in the Republic of Macedonia. Eastern, located in the eastern part of the country, borders Bulgaria...


(Источен)
39
Berovo

Berovo municipality

Berovo is a municipality in eastern Republic of Macedonia. Berovo is also the name of the town where the municipal seat is found. Berovo Municipality is part of the Eastern Statistical Region.-Geography:...


(Берово)
MK.BR
Berovo

Berovo

Berovo is a small town near the Maleševo Mountains, from Skopje, from Strumica and from Kočani, in the Republic of Macedonia. It is the seat of Berovo Municipality.-Demographics:There are 7,002 residents in the town of Berovo.-Features:...


(Берово)
28
Češinovo-Obleševo

Cešinovo-Obleševo municipality

Češinovo-Obleševo is a municipality in eastern Republic of Macedonia. The seat of the municipality is the village of Obleševo. Češinovo-Obleševo is part of the Eastern Statistical Region.-Geography:...


(Чешиново-Облешево)
MK.CH
Obleševo

Obleševo

Češinovohttp://wikimapia.org/#lat=41.530108&lon=22.195289&z=14&l=0&m=b&show=/15187241/CesinovoCheshinovo is a village in Republic of Macedonia. It is a seat of the Češinovo-Obleševo municipality....


(Облешево)
26
Delčevo

Delcevo municipality

Delčevo is a municipality in eastern Republic of Macedonia. Delčevo is also the name of the town where the municipal seat is found. Delčevo Municipality is part of the Eastern Statistical Region.- Geography :...


(Делчево)
MK.DL
Delčevo

Delcevo

Delčevo is a small town in the eastern mountainous part of the Republic of Macedonia. It is the municipal seat of the eponymous municipality. The town is named after revolutionary Goce Delčev.-Demographics:Delčevo has 11,500 residents....


(Делчево)
29
Karbinci

Karbinci municipality

Karbinci is a municipality in eastern Republic of Macedonia. Karbinci is also the name of the village where the municipal seat is found. Karbinci Municipality is part of the Eastern Statistical Region.-Geography:...


(Карбинци)
MK.KB
Karbinci

Karbinci

Karbinci is a village in Republic of Macedonia. It is a seat of the Karbinci municipality....


(Карбинци)
24
Kočani

Kocani municipality

Kočani is a municipality in eastern Republic of Macedonia. Kočani is also the name of the town where the municipal seat is found. The municipality is part of the Eastern Statistical Region.-Geography:...


(Кочани)
MK.OC
Kočani

Kocani

Kočani is a town away from Skopje, situated in the Eastern part of the Republic of Macedonia, with population of 28 330. The town of Kočani is the seat of Kočani Municipality.-Geography and population:...


(Кочани)
32
Lozovo

Lozovo municipality

Lozovo is a municipality in eastern Republic of Macedonia. Lozovo is also the name of the village where the municipal seat is found. Lozovo Municipality is part of the Eastern Statistical Region.-Geography:...


(Лозово)
MK.LO
Lozovo

Lozovo

Lozovo is a village in Republic of Macedonia. It is a seat of the Lozovo municipality....


(Лозово)
25
Makedonska Kamenica

Makedonska Kamenica municipality

Makedonska Kamenica is a municipality in eastern Republic of Macedonia. Makedonska Kamenica is also the name of the town where the municipal seat is found...


(Македонска каменица)
MK.MK
Makedonska Kamenica

Makedonska Kamenica

Makedonska Kamenica is a city in the north-east of the Republic of Macedonia. It has 8,110 inhabitants, the majority of whom are ethnic Macedonians. The town is the seat of Makedonska Kamenica Municipality.-External links:*...


(Македонска каменица)
38
Pehčevo

Pehcevo municipality

Pehčevo is a municipality in eastern Republic of Macedonia. Pehčevo is also the name of the town where the municipal seat is found. This municipality is part of the Eastern Statistical Region.-Basic information:...


(Пехчево)
MK.PH
Pehčevo

Pehcevo

Pehcevo is a small town situated in the eastern part of the Republic of Macedonia. The seat of the Municipality of Pehcevo is a town Pehcevo Pehčevo Municipality. Population in the Municipality is 5,517.-External links:*...


(Пехчево)
23
Probištip

Probištip municipality

Probištip is a municipality in eastern Republic of Macedonia. Probištip is also the name of the town where the municipal seat is found. This municipality is part of the Eastern Statistical Region.-Geography:...


(Пробиштип)
MK.PT
Probištip

Probištip

Probištip is a town in the Republic of Macedonia, and seat of Probištip Municipality. The town has a population of 10,826 .-Features:Probištip is nestled in the southwest corner of the Osogovo Mountains, in northeastern Macedonia. The region has been well-known since Roman times for its mineral...


(Пробиштип)
31
Štip

Štip municipality

Štip is a municipality in eastern Republic of Macedonia. Štip is also the name of the town where the municipal seat is found. This municipality is part of the Eastern Statistical Region.-Geography:Štip Municipality covers an area of 583.24 km²...


(Штип)
MK.ST
Štip

Štip

Štip is the largest urban agglomeration in the eastern part of the Republic of Macedonia, serving as the economic, industrial, entertainment and educational focal point for the surrounding municipalities. As of the 2002 census, the Štip municipality alone had a population of about 47,796...


(Штип)
22
Sveti Nikole

Sveti Nikole municipality

Sveti Nikole is a municipality in eastern Republic of Macedonia. Sveti Nikole is also the name of the town where the municipal seat is found...


(Свети Николе)
MK.SL
Sveti Nikole

Sveti Nikole

Sveti Nikole is a town in the Republic of Macedonia. It is the seat of Sveti Nikole Municipality and a center of a plain called Ovče Pole , famous for sheep farming, lamb meat, and dairy products of all kinds. According to legend, the town was named after the church of Sveti Nikola, built in the...


(Свети Николе)
27
Vinica

Vinica municipality

Vinica is a municipality in eastern Republic of Macedonia. Vinica is also the name of the town where the municipal seat is found. Vinica Municipality is part of the Eastern Statistical Region.-Geography:...


(Виница)
MK.NI
Vinica

Vinica

Vinica or Vinitsa may refer to:* Vinica , a place in the Tomislavgrad land council* Vinica, Črnomelj, a village in the Municipality of Črnomelj, Slovenia* Vinica, Macedonia, a town in the Vinica Municipality of Macedonia...


(Виница)
30
Zrnovci

Zrnovci municipality

Zrnovci is a municipality in eastern Republic of Macedonia. Zrnovci is also the name of the village where the municipal seat is found. Zrnovci Municipality is part of the Eastern Statistical Region.-Geography:...


(Зрновци)
MK.ZR
Zrnovci

Zrnovci

Zrnovci is a village in Republic of Macedonia. It is a seat of the Zrnovci municipality.-Geography:Zrnovci is situated in the east part of Republic of Macedonia, 8 km south of Kočani, placed in the valley of Kocani, more precisely in the foot of the mountain Plačkovica, with area of 2848 ha...


(Зрновци)
Northeastern

Northeastern statistical region

The Northeastern Statistical Region is one of eight arbitrary statistical regions in the Republic of Macedonia. Northeastern, located in the northeastern part of the country, borders Serbia and Bulgaria...


(Североисточен)
21
Kratovo

Kratovo municipality

Kratovo is a municipality in eastern Republic of Macedonia. Kratovo is also the name of the town where the municipal seat is found. Kratovo Municipality is part of the Northeastern Statistical Region.-Geography:...


(Кратово)
MK.KY
Kratovo (Кратово)
20
Kriva Palanka

Kriva Palanka municipality

Kriva Palanka is a municipality in eastern Republic of Macedonia. Kriva Palanka is also the name of the town where the municipal seat is found...


(Крива Паланка)
MK.KZ
Kriva Palanka

Kriva Palanka

Kriva Palanka is a town located in the northeastern part of the Republic of Macedonia. It has 14.558 inhabitants. The town of Kriva Palanka is the seat of Kriva Palanka Municipality which has almost 21.000 inhabitants....


(Крива Паланка)
17
Kumanovo

Kumanovo municipality

Kumanovo is a municipality in northern Republic of Macedonia. Kumanovo is also the name of the city where the municipal seat is found. Kumanovo Municipality is part of the Northeastern Statistical Region.-Geography:...


(Куманово)
MK.UM
Kumanovo

Kumanovo

Kumanovo is a city in the Republic of Macedonia and is the seat of Kumanovo Municipality which is the largest municipality in the country. Municipal institutions include a city council, mayor and other administrative bodies.-Name:...


(Куманово)
7
Lipkovo

Lipkovo municipality

Lipkovo is a municipality in northern Republic of Macedonia. Lipkovo is also the name of the village where the municipal seat is found. Lipkovo Municipality is part of the Northeastern Statistical Region.-Geography:...


(Липково)
MK.LI
Lipkovo

Lipkovo

Lipkovo is a village in Republic of Macedonia. It is a seat of the Lipkovo municipality.-External links:*...


(Липково)
19
Rankovce

Rankovce municipality

Rankovce is a municipality in northeastern Republic of Macedonia. Rankovce is also the name of the town where the municipal seat is found. Rankovce Municipality is part of the Northeastern statistical region.-Geography:...


(Ранковце)
MK.RN
Rankovce

Rankovce, Republic of Macedonia

Rankovce is a village in Republic of Macedonia. It is a seat of the Rankovce municipality which covers an area of ​​Slavishko field that belongs to the famous region of Kriva Reka....


(Ранковце)
18
Staro Nagoričane

Staro Nagoricane municipality

Staro Nagoričane is a municipality in northern Republic of Macedonia. Staro Nagoričane is also the name of the village where the municipal seat is found...


(Старо Нагоричане)
MK.NA
Staro Nagoričane

Staro Nagoricane

Staro Nagoričane is a village in Republic of Macedonia and the seat of the Staro Nagoričane municipality, primarily known for its 13th century Church of St George, built by Serbian king Milutin....


(Старо Нагоричане)
Pelagonia

Pelagonia statistical region

The Pelagonia Statistical Region is one of eight arbitrary statistical regions in the Republic of Macedonia. It is located in southwestern part of the country along the eponymous plain. It borders Greece and Albania...


(Пелагониски)
71
Bitola (Битола)
MK.TL
Bitola

Bitola

Bitola is a city in the southwestern part of the Republic of Macedonia. The city is an administrative, cultural, industrial, commercial, and educational centre. It is located in the southern part of the Pelagonia valley, surrounded by the Baba and Nidže mountains, 14 km north of the...


(Битола)
70
Demir Hisar

Demir Hisar municipality

Demir Hisar is a municipality in southwestern Republic of Macedonia. Demir Hisar, which means "iron fortress" in Turkish, is also the name of the town where the municipal seat is found...


(Демир Хисар)
MK.DM
Demir Hisar

Demir Hisar

Demir Hisar , or in Slavic translation known as Železnec , is an area spreading on the South West part of Macedonia to the North West of the Pelagonian plain, around the river flow of the Black River with her inflows...


(Демир Хисар)
51
Dolneni

Dolneni municipality

Dolneni is a municipality in central Republic of Macedonia. Dolneni is also the name of the village where the municipal seat is found. The municipality is part of the Pelagonia Statistical Region.-Geography:...


(Долнени)
MK.DE
Dolneni

Dolneni

Dolneni is a village in central Republic of Macedonia, at the center of the plain of Prilepsko Pole , 10 km northwest of Prilep city...


(Долнени)
72
Krivogaštani

Krivogaštani municipality

Krivogaštani is a municipality in western Republic of Macedonia. Krivogaštani is also the name of the village where the municipal seat is found...


(Кривогаштани)
MK.KG
Krivogaštani

Krivogastani

Krivogaštani is a village situated near Prilep on the Pelagonian plain in the Republic of Macedonia. The village is a seat of the Krivogaštani municipality....


(Кривогаштани)
52
Kruševo

Kruševo municipality

Kruševo is a municipality in central Republic of Macedonia. Kruševo is also the name of the town where the municipal seat is found. This municipality is part of the Pelagonia Statistical Region.-Geography:...


(Крушево)
MK.KS
Kruševo

Kruševo

Kruševo also spelled Krushevo, is a town in the Republic of Macedonia. It is the highest town in Macedonia, situated at an altitude of over 4,000 feet above sea level. The town of Kruševo is the seat of Kruševo Municipality.-History:...


(Крушево)
73
Mogila

Mogila municipality

Mogila is a municipality in south-central Republic of Macedonia. Mogila is also the name of the village where the municipal seat is found. Mogila Municipality is part of the Pelagonia Statistical Region.-Geography:...


(Могила)
MK.MG
Mogila

Mogila

Mogila is a village in the south of the Republic of Macedonia. It is a seat of the Mogila municipality. The village is located in Pelagonia, north-east of the city of Bitola...


(Могила)
74
Novaci

Novaci municipality

Novaci is a municipality in southern Republic of Macedonia. Novaci is also the name of the village where the municipal seat is found. Novaci Municipality is a part of the Pelagonia Statistical Region.-History:...


(Новаци)
MK.NV
Novaci

Novaci

Novaci is a town in Gorj County, Oltenia, Romania, situated at the foothills of the Parâng Mountains, on the river Gilort. It administers four villages: Berceşti, Hirişeşti, Pociovaliştea and Siteşti....


(Новаци)
50
Prilep

Prilep municipality

Prilep is a municipality in southern Republic of Macedonia. Prilep is also the name of the city where the municipal seat is found. It is located in the Pelagonia Statistical Region.-Geography:...


(Прилеп)
MK.PP
Prilep

Prilep

Prilep is the fourth largest city in the Republic of Macedonia. It has a population of 66,246 citizens. Prilep is known as "the city under Marko's Towers" because of its proximity to the towers of Prince Marko.-Name:...


(Прилеп)
69
Resen

Resen municipality

Resen is a municipality in southwestern Republic of Macedonia. Resen is also the name of the town where the municipal seat is found. Resen Municipality is located in the Pelagonia Statistical Region.-Geography:...


(Ресен)
MK.RE
Resen

Resen

Resen was, according to Genesis 10:11, a city founded by Asshur son of Shem.Resen is stated, according to Genesis 10:12, to have been located between Nineveh and Calah and became a great city. Its exact location is today unclear. According to Genesis, it is within the vicinity of ancient Assyria,...


(Ресен)
Polog

Polog statistical region

The Polog Statistical Region is one of eight arbitrary statistical regions in the Republic of Macedonia. Polog, located in the northwestern part of the country, borders Albania and Kosovo...


(Полошки)
59
Bogovinje

Bogovinje municipality

Bogovinje is a municipality in western Republic of Macedonia. Bogovinje is also the name of the village where the municipal seat is found. Bogovinje Municipality is part of the Polog Statistical Region.-Geography:...


(Боговиње)
MK.VJ
Bogovinje

Bogovinje

Bogovinje is a village in Republic of Macedonia. It is a seat of the Bogovinje municipality.The population is 14.500 in 2002 census....


(Боговиње)
12
Brvenica

Brvenica municipality

Brvenica is a municipality in northwestern Republic of Macedonia. Brvenica is also the name of the village where the municipal seat is found...


(Брвеница)
MK.BN
Brvenica

Brvenica

Brvenica is one of the largest and most developed villages in Tetovo, in addition to others in the village and is the seat of the municipality Brvenica.-Geography and location:...


(Брвеница)
60
Gostivar

Gostivar municipality

Gostivar is a municipality in western Republic of Macedonia. Gostivar is also the name of the town where the municipal seat is found. Gostivar Municipality is part of the Polog Statistical Region.-Geography:...


(Гостивар)
MK.GT
Gostivar

Gostivar

Gostivar , is a city in the Republic of Macedonia, located in the upper Polog valley region. It is one of the largest municipalities in the country with a population of 81,042, and the town also covers . Gostivar has good road and railway connections with the other cities in the region, such as...


(Гостивар)
9
Jegunovce

Jegunovce municipality

Jegunovce is a municipality in northwestern Republic of Macedonia. Jegunovce is also the name of the village where the municipal seat is found...


(Јегуновце)
MK.JG
Jegunovce

Jegunovce

Jegunovce is one of the larger villages in the Polog Valley, Republic of Macedonia. It is located about 10 mi northeast of the Macedonian city of Tetovo...


(Јегуновце)
61
Mavrovo and Rostuša

Mavrovo and Rostuša municipality

Mavrovo and Rostuša is a municipality in western Republic of Macedonia. The municipal seat is located in the village of Rostuša. This municipality is part of the Polog Statistical Region.-Geography:...


(Маврово и Ростуша)
MK.MR
Rostuša

Rostuša

Rostuša is a village in Republic of Macedonia. It is a seat of the Mavrovo and Rostuša municipality.In 1426 Gjon Kastrioti from Albania and his three sons donated the right to the proceeds from taxes collected from the villages Rostuša and Trebište and from the church of Saint Mary, which was in...


(Ростуша)
10
Tearce

Tearce municipality

Tearce is a municipality in northwestern Republic of Macedonia. Tearce is also the name of the village where the municipal seat is found. Tearce Municipality is part of the Polog Statistical Region.-Geography:...


(Теарце)
MK.TR
Tearce

Tearce

Tearce is a village located 12 km to the northeast of Tetovo, in northwestern Republic of Macedonia, about 15 kilometres from the border with Kosovo. It is a seat of the Tearce municipality. Population 3,974 . The B-405 road connects it to Tetovo....


(Теарце)
11
Tetovo

Tetovo municipality

Tetovo is a municipality in northwestern Republic of Macedonia. Tetovo is also the name of the town where the municipal seat is found. Tetovo Municipality is part of the Polog Statistical Region.-Geography:...


(Тетово)
MK.ET
Tetovo

Tetovo

Tetovo is a city in the northwestern part of Macedonia, built on the foothills of Šar Mountain and divided by the Pena River.The city covers an area of at above sea level, with a population of 86,580 citizens in the municipality. Tetovo is home to the State University of Tetovo and South East...


(Тетово)
58
Vrapčište

Vrapcište municipality

Vrapčište is a municipality in western Republic of Macedonia. Vrapčište is also the name of the village where the municipal seat is found. This municipality is part of the Polog Statistical Region.-Geography:...


(Врапчиште)
MK.VH
Vrapčište

Vrapcište

Vrapčište is a village in Republic of Macedonia. It is a seat of the Vrapčište municipality....


(Врапчиште)
2
Želino

Želino municipality

Želino is a municipality in northwestern Republic of Macedonia. Želino is also the name of the village where the municipal seat is found. This municipality is part of the Polog Statistical Region.-Geography:...


(Желино)
MK.ZE
Želino

Želino

Želino is a village in Republic of Macedonia. It is a seat of the Želino municipality....


(Желино)
Skopje

Skopje statistical region

The Skopje Statistical Region is one of eight arbitrary statistical regions in the Republic of Macedonia. Skopje, located in northern Macedonia, borders Kosovo to the north...


(Скопски)
1 , 3
Aerodrom (Аеродром)
MK.AD
Aerodrom (Аеродром)
—
75
Aračinovo

Aracinovo municipality

Aračinovo is a municipality in northern Republic of Macedonia. Aračinovo is also the name of the village where the municipal seat is found. The municipality is located in the Skopje Statistical Region.-Geography:...


(Арачиново)
MK.AR
Aračinovo

Aracinovo

Aračinovo is a village in the Republic of Macedonia, west of Skopje. It is the seat of Aračinovo Municipality. Aračinovo is one of the larger villages in Republic of Macedonia with a population of about 7,000....


(Арачиново)
1 , 6
Butel

Butel municipality

Butel is one of the ten municipalities that make up the city of Skopje, the capital of the Republic of Macedonia.A cemetery in Butel is where the grave of George Zorbas, the character upon whom Nikos Kazantzakis based the fictional Alexis Zorbas of his novel Zorba the Greek, is...


(Бутел)
MK.BU
Butel (Бутел)
—
1 , 4
Čair

Cair municipality

Čair is one of the ten municipalities that make up the city of Skopje, the capital of the Republic of Macedonia. Skopje's old town is located in Čair.- Geography :...


(Чаир)
MK.CI
Čair

CAIR

- Fictional :* Cair Andros, a fictional island in Tolkien's fiction* Cair Paravel, a castle from C. S. Lewis' The Chronicles of Narnia- Acronyms :* Council on American-Islamic Relations, American Muslim civil rights advocacy organization...


(Чаир)
1 , 1
Centar (Центар)
MK.CE
Centar (Центар)
8
Čučer-Sandevo

Cucer-Sandevo municipality

Čučer-Sandevo is a municipality in northern Republic of Macedonia. Čučer-Sandevo is also the name of the village where the municipal seat is found...


(Чучер Сандево)
MK.CS
Čučer-Sandevo

Cucer-Sandevo

Čučer-Sandevo is a village in Republic of Macedonia. It is a seat of the Čučer-Sandevo municipality....


(Чучер Сандево)
1 , 2
Gazi Baba

Gazi Baba municipality

Gazi Baba is one of the ten municipalities that make up the city of Skopje, the capital of the Republic of Macedonia.-Name:The name of the municipality comes from the nickname of the Ottoman poet Aṣik Çelebi...


(Гази Баба)
MK.GB
Gazi Baba (Гази Баба)
1 , 9
Gjorče Petrov

Gjorce Petrov municipality

Gjorče Petrov is one of the ten municipalities that compose the city of Skopje, the capital of the Republic of Macedonia. It is named after the revolutionary Gjorče Petrov.-Geography:...


(Ѓорче Петров)
MK.GP
Gjorče Petrov (Ѓорче Петров)
6
Ilinden

Ilinden municipality

Ilinden is a municipality in northern Republic of Macedonia. Ilinden is also the name of the village where the municipal seat is found. It is named after the Ilinden Uprising in the region of Macedonia in 1903...


(Илинден)
MK.IL
Ilinden

Ilinden

-Events:* Day of the Republic in the Republic of Macedonia, celebrated on 2 August each year.-Geographic locations:* In Bulgaria:** Ilinden, Blagoevgrad Province, a village** Ilinden, Sofia, an urban municipality* In Macedonia:** Ilinden municipality...


(Илинден)
1 , 8
Karpoš

Karpoš municipality

Karpoš is one of the ten municipalities that make up the city of Skopje, the capital of the Republic of Macedonia.-Geography:Karpoš borders Saraj Municipality and Gjorče Petrov Municipality to the west, Čučer-Sandevo Municipality to the north, Butel Municipality to the northeast, Čair...


(Карпош)
MK.KX
Karpoš

Karpos

This article is about the Greek mythological character, for the unit within the city of Skopje, go to Karpoš Municipality.In Greek mythology, Karpos , was a youth renowned for his beauty...


(Карпош)
1 , 5
Kisela Voda

Kisela Voda municipality

Kisela Voda is one of the ten municipalities that make up the city of Skopje, the capital of the Republic of Macedonia.-Geography:The municipality borders Karpoš Municipality to the northwest, Centar Municipality to the north, Aerodrom Municipality to the northeast, Studeničani Municipality to the...


(Кисела Вода)
MK.VD
Kisela Voda (Кисела Вода)
16
Petrovec

Petrovec municipality

The Municipality of Petrovec is a municipality in northern Republic of Macedonia, near the capital Skopje. Petrovec is also the name of the village where the municipal seat is found...


(Петровец)
MK.PE
Petrovec (Петровец)
1 , 10
Saraj

Saraj municipality

Saraj is one of the ten municipalities that make up the city of Skopje, the capital of the Republic of Macedonia. Saraj, which means "palace" in Turkish, is also the name of the village where the municipal seat is found.-Geography:...


(Сарај)
MK.AJ
Saraj

Saraj (Skopje)

Saraj is a village in Skopje, in the Republic of Macedonia. It is the seat of the Saraj municipality. The majority of its inhabitants are of Albanian ethnicity.-References:...


(Сарај)
3
Sopište

Sopište municipality

Sopište is a municipality in northern Republic of Macedonia. Sopište is also the name of the village where the municipal seat is found. It is located in the Skopje Statistical Region.-Geography:...


(Сопиште)
MK.SS
Sopište

Sopište

Sopište is a village in Republic of Macedonia. It is a seat of the Sopište municipality....


(Сопиште)
4
Studeničani

Studenicani municipality

Studeničani is a municipality in central Republic of Macedonia. Studeničani is also the name of the village where the municipal seat is found...


(Студеничани)
MK.SU
Studeničani

Studenicani

Studeničani is a village in Republic of Macedonia. It is a seat of the Studeničani municipality....


(Студеничани)
1 , 7
Šuto Orizari

Šuto Orizari municipality

Šuto Orizari , or simply Šutka , is one of the ten municipalities that make up the City of Skopje, the capital of the Republic of Macedonia.-Geography:...


(Шуто Оризари)
MK.SO
Šuto Orizari (Шуто Оризари)
5
Zelenikovo

Zelenikovo municipality

Zelenikovo is a municipality in central Republic of Macedonia. Zelenikovo is also the name of the village where the municipal seat is found...


(Зелениково)
MK.ZK
Zelenikovo

Zelenikovo

Zelenikovo is a village in Republic of Macedonia. It is a seat of the Zelenikovo municipality....


(Зелениково)
Southeastern

Southeastern statistical region

The Southeastern Statistical Region is one of eight arbitrary statistical regions in the Republic of Macedonia. Southeastern, located in the southeastern part of the country, borders Greece and Bulgaria...


(Југоисточен)
46
Bogdanci

Bogdanci municipality

Bogdanci is a municipality in southern Republic of Macedonia. Bogdanci is also the name of the town where the municipal seat is found. Bogdanci Municipality is part of Southeastern Statistical Region.-Geography:...


(Богданци)
MK.BG
Bogdanci

Bogdanci

Bogdanci is a small town in Republic of Macedonia, close to the border with Greece. It is located at around , and is the seat of Bogdanci Municipality.-Location:...


(Богданци)
41
Bosilovo

Bosilovo municipality

Bosilovo is a municipality in southeastern Republic of Macedonia. Bosilovo is also the name of the village where the municipal seat is found...


(Босилово)
MK.BS
Bosilovo

Bosilovo

Bosilovo is a village in Republic of Macedonia. It is the seat of Bosilovo Municipality....


(Босилово)
47
Gevgelija

Gevgelija municipality

Gevgelija is a municipality in southern Republic of Macedonia. Gevgelija is also the name of the town where the municipal seat is found...


(Гевгелија)
MK.GV
Gevgelija

Gevgelija

Gevgelija is a town with a population of 15,685 located in the very southeast of the Republic of Macedonia along the banks of the Vardar River, situated at the country's main border with Greece , the point which links the motorway from Skopje and three other former Yugoslav capitals with...


(Гевгелија)
36
Konče

Konce municipality

Konče is a municipality in eastern Republic of Macedonia. Konče is also the name of the village where the municipal seat is found. This municipality is part of the Southeastern Statistical Region.-Geography:...


(Конче)
MK.KN
Konče

Konce

Konče is a village in Republic of Macedonia. It is the seat of Konče Municipality....


(Конче)
42
Novo Selo

Novo Selo municipality

Novo Selo is a municipality in eastern Republic of Macedonia. Novo Selo is also the name of the village where the municipal seat is found. Novo Selo means "New Village" in Macedonian. Novo Selo Municipality is part of the Southeastern statistical region.-Demographics:According to the last...


(Ново Село)
MK.NS
Novo Selo

Novo Selo (Novo Selo)

Novo Selo is a large village in the southeastern part of the Republic of Macedonia. It is the administrative centre of the eponymous municipality. Located in the valley of the Strumica River 9 km from the Bulgarian border, it has a population of 2,756...


(Ново Село)
37
Radoviš

Radoviš municipality

Radoviš Municipality is a municipality in eastern Republic of Macedonia. Radoviš is the name of the city where the municipal seat is found. This municipality is part of the Southeastern Statistical Region.-History:...


(Радовиш)
MK.RV
Radoviš

Radoviš

Radoviš is a city positioned in the southeastern part of the Republic of Macedonia. It is the second largest city in the southeastern region. The city is the seat of Radoviš Municipality, which is spread on the bottom of Plačkovica Mountain and the northern part of the Radoviš-Strumica valley. The...


(Радовиш)
45
Star Dojran (Стар Дојран)
MK.SD
Dojran

Dojran

Dojran was a city located on the western shore of Dojran Lake in the south-eastern part of the Republic of Macedonia. Today, it is collective name for two villages that exist on the territory of the ruined city: Nov Dojran and Star Dojran, which contains both old ruins and recent construction,...


(Стар Дојран)
43
Strumica

Strumica municipality

Strumica is a municipality in eastern Republic of Macedonia. Strumica is also the name of the city where the municipal seat is found. Strumica Municipality is part of the Southeastern Statistical Region.-Geography:...


(Струмица)
MK.RU
Strumica

Strumica

Strumica is the largest city in eastern Macedonia, near the Novo Selo-Petrich border crossing with Bulgaria. About 100,000 people live in the region surrounding the city. The city is named after the Strumica River which runs through it...


(Струмица)
44
Valandovo

Valandovo municipality

Valandovo is a municipality in southern Republic of Macedonia. Valandovo is also the name of the town where the municipal seat is found. Valandovo Municipality is part of Southeastern Statistical Region.-Geography:...


(Валандово)
MK.VA
Valandovo

Valandovo

Valandovo is a city in southeastern Republic of Macedonia.The city is the seat of Valandovo Municipality.-Ancient History:Evidence of life can be found beginning in the 10th-7th centuries B.C. There is a settlement known as Mal Konstantinopol dating from Roman times, and the life in the Middle...


(Валандово)
40
Vasilevo

Vasilevo municipality

Vasilevo is a municipality in eastern Republic of Macedonia. Vasilevo is also the name of the village where the municipal seat is found. Vasilevo Municipality is part of the Southeastern Statistical Region.-Demographics:...


(Василево)
MK.VL
Vasilevo

Vasilevo

Vasilevo is a village in Republic of Macedonia. It is a seat of the Vasilevo municipality....


(Василево)
Southwestern

Southwestern statistical region

The Southwestern Statistical Region is one of eight arbitrary statistical regions in the Republic of Macedonia. Southwestern, located in the west and southwestern part of the country, borders Albania to the west...


(Југозападен)
63
Centar Župa

Centar Župa municipality

Centar Župa is a municipality in western Republic of Macedonia. Centar Župa is also the name of the village where the municipal seat is found...


(Центар Жупа)
MK.CZ
Centar Župa

Centar Župa

Centar Župa , Turkish: Merkez Jupa) is a village in Republic of Macedonia, in majority inhabited by Turks. It is the seat of the Centar Župa municipality....


(Центар Жупа)
62
Debar

Debar municipality

Debar is a municipality in western Republic of Macedonia. Debar is also the name of the town where the municipal seat is found. Debar Municipality is part of the Southwestern Statistical Region.-Geography:...


(Дебар)
MK.DB
Debar

Debar

Debar is a city in the western part of the Republic of Macedonia, near the border with Albania, on the road from Struga to Gostivar. It is the seat of Debar Municipality.-Geography:...


(Дебар)
67
Debarca

Debarca municipality

Debarca is a municipality in southwestern Republic of Macedonia. The village of Belčišta is the municipal seat. Debarca Municipality is part of the Southwestern Statistical Region.-Geography:...


(Дебарца)
MK.DA
Belčišta (Белчишта)
64
Drugovo

Drugovo municipality

Drugovo is a municipality in western Republic of Macedonia. Drugovo is also the name of the village where the municipal seat is found. Drugovo Municipality is part of the Southwestern Statistical Region.-Geography:...


(Другово)
MK.DR
Drugovo

Drugovo

Drugovo is a village in Republic of Macedonia. It is a seat of the Drugovo municipality....


(Другово)
55
Kičevo

Kicevo municipality

Kičevo is a municipality in western Republic of Macedonia. Kičevo is also the name of the town where the municipal seat is found. Kičevo Municipality is located in the Southwestern Statistical Region.-Geography:...


(Кичево)
MK.KH
Kičevo

Kicevo

Kičevo is a city in the western part of the Republic of Macedonia, located in a valley in the south-eastern slopes of Mount Bistra, between the cities of Ohrid and Gostivar. The capital Skopje is 112 km away. The city of Kičevo is the seat of Kičevo Municipality.-Population:The municipality...


(Кичево)
13
Makedonski Brod

Makedonski Brod municipality

Makedonski Brod is a municipality in eastern Republic of Macedonia, named after the town of Makedonski Brod, where the municipal seat is located...


(Македонски Брод)
MK.MD
Makedonski Brod

Makedonski Brod

Makedonski Brod is a town in the central part of the country, on the south-eastern part of Suva Gora, western Karadžica and south-western Dautica mountains. The town is the seat of Makedonski Brod Municipality.-Geography:...


(Македонски Брод)
68
Ohrid

Ohrid municipality

The Municipality of Ohrid is a municipality in the southwestern part of the Republic of Macedonia. Ohrid is also the name of the city where the municipal seat is found...


(Охрид)
MK.OD
Ohrid

Ohrid

Ohrid is a city on the eastern shore of Lake Ohrid in the Republic of Macedonia. It has about 42,000 inhabitants, making it the seventh largest city in the country. The city is the seat of Ohrid Municipality. Ohrid is notable for having once had 365 churches, one for each day of the year and has...


(Охрид)
56
Oslomej

Oslomej municipality

Oslomej is a municipality in western Republic of Macedonia. Oslomej is also the name of the village where the municipal seat is found. Oslomej Municipality is part of the Southwestern Statistical Region.-Geography:...


(Осломеј)
MK.OS
Oslomej

Oslomej

Oslomej is a village in the Republic of Macedonia. It is the seat of Oslomej Municipality and the birthplace of Yoakim Karchovski....


(Осломеј)
53
Plasnica

Plasnica municipality

Plasnica is a municipality in western Republic of Macedonia. Plasnica is also the name of the village where the municipal seat is found. Plasnica Municipality is part of the Southwestern Statistical Region...


(Пласница)
MK.PN
Plasnica

Plasnica

Plasnica is a village in Republic of Macedonia. It is a seat of the Plasnica municipality....


(Пласница)
65
Struga

Struga municipality

Struga is a municipality in western Republic of Macedonia. Struga is also the name of the town where the municipal seat is found. Struga Municipality is part of the Southwestern Statistical Region.-Geography:...


(Струга)
MK.UG
Struga

Struga

Struga is a town and popular tourist destination situated in the south-western region of the Republic of Macedonia, lying on the shore of Lake Ohrid. The town of Struga is the seat of Struga Municipality.-Etymology:...


(Струга)
66
Vevčani

Vevcani municipality

Vevčani is a municipality in western Republic of Macedonia. Vevčani is also the name of the municipal seat and the only settlement of the municipality...


(Вевчани)
MK.VV
Vevčani

Vevcani

Vevčani is a small city in Republic of Macedonia. It is the only settlement and seat of Vevčani Municipality.- Geography :The village of Vevčani is found in the southwestern range at the foot of the Jablanica mountain range. It is situated from 800 – 950 metres above sea level. The village is...


(Вевчани)
54
Vraneštica

Vraneštica municipality

Vraneštica is a municipality in western Republic of Macedonia. Vraneštica is also the name of the village where the municipal seat is found. This municipality is part of Southwestern Statistical Region.-Demographics:...


(Вранештица)
MK.VC
Vraneštica

Vraneštica

Vraneštica is a village in Republic of Macedonia. It is a seat of the Vraneštica municipality....


(Вранештица)
57
Zajas

Zajas municipality

Zajas is a municipality in western Republic of Macedonia. Zajas is also the name of the village where the municipal seat is found. Zajas Municipality is part of the Southwestern Statistical Region.-Geography:...


(Зајас)
MK.ZA
Zajas

Zajas

Zajas is a village located in the Republic of Macedonia. According to the census of 2002 it has 11,605 inhabitants. Zajas is a seat of the Zajas municipality. Zajas is well known as the birthplace of the National Front fighters Mefail Shehu, Mefail Mehmeti and Begzat Vuli...


(Зајас)
Vardar

Vardar statistical region

The Vardar Statistical Region is one of eight arbitrary statistical regions in the Republic of Macedonia. Vardar, located in the central part of Macedonia, borders Greece to the south. Internally, it borders the Pelagonia, Southwestern, Skopje, Southeastern, and Eastern...


(Вардарски)
14
Čaška

Caška municipality

Čaška is a municipality in central Republic of Macedonia. Čaška is also the name of the village where the municipal seat is found. This municipality is part of the Vardar Statistical Region.-Geography:...


(Чашка)
MK.CA
Čaška

Caška

Čaška is a village in Republic of Macedonia. It is the seat of the Čaška Municipality. Near the village historians from Republic of Macedonia found a 6000 year old flute called the "Globular Flute".- References :...


(Чашка)
48
Demir Kapija

Demir Kapija municipality

Demir Kapija is a municipality in southern Republic of Macedonia. Demir Kapija, which means "iron door" or "iron gate" in Turkish, is also the name of the town where the municipal seat is found...


(Демир Капија)
MK.DK
Demir Kapija

Demir Kapija

Demir Kapija is a town in the Republic of Macedonia, located near the ominous limestone gates of the same name. It has 3,725 inhabitants. The town is the seat of Demir Kapija Municipality.-Etymology:...


(Демир Капија)
33
Gradsko

Gradsko municipality

Gradsko is a municipality in eastern Republic of Macedonia. Gradsko is also the name of the village where the municipal seat is found. Gradsko Municipality is part of the Vardar Statistical Region.-Geography:...


(Градско)
MK.GR
Gradsko

Gradsko, Republic of Macedonia

Gradsko is a village located in central Republic of Macedonia. It is located at around and is very close to the main motorway which links Gevgelija on Macedonia's border with Greece, to Slovenia's crossing with Austria. It was constructed in Yugoslavia...


(Градско)
49
Kavadarci

Kavadarci municipality

Kavadarci is a municipality in southern Republic of Macedonia. Kavadarci is also the name of the town where the municipal seat is found. Kavadarci Municipality is part of the Vardar Statistical Region.-Geography:...


(Кавадарци)
MK.AV
Kavadarci

Kavadarci

Kavadarci is a town located in the Tikveš region of the Republic of Macedonia. Situated in the heart of Macedonia's wine country, it is home to the largest winery in south-eastern Europe, named after the Tikveš plain. The town of Kavadarci is the seat of Kavadarci Municipality...


(Кавадарци)
35
Negotino

Negotino municipality

Negotino is a municipality in eastern Republic of Macedonia. Negotino is also the name of the town where the municipal seat is found. Negotino Municipality is part of Vardar Statistical Region.-Geography:...


(Неготино)
MK.NG
Negotino

Negotino

Negotino is a town in the Republic of Macedonia. Its population is about 15,000. It is the seat of Negotino Municipality.-Geography:Negotino is situated on the right bank of the river Vardar. It is about above sea level. Negotino is in a vineyard region and the gates of the Tikves basin, known...


(Неготино)
34
Rosoman

Rosoman municipality

Rosoman is a municipality in central Republic of Macedonia. Rosoman is also the name of the village where the municipal seat is found. Rosoman Municipality is part of the Vardar Statistical Region.-Geography:...


(Росоман)
MK.RM
Rosoman

Rosoman

Rosoman is a village in Republic of Macedonia. It is a seat of the Rosoman municipality.The village boasts a small roadside market and a few restaurants also situated along the main road...


(Росоман)
15
Veles

Veles municipality

Veles is a municipality in central Republic of Macedonia. Veles is also the name of the town where the municipal seat is found. Veles Municipality is part of the Vardar Statistical Region.-Geography:...


(Велес)
MK.VE
Veles

Veles (city)

Veles is a city in the center of the Republic of Macedonia on the Vardar river. The city of Veles is the seat of Veles Municipality.-Name:The city's name was Vylosa in Ancient Greek and before the Balkan Wars, it was a township with the name Köprülü in the Üsküp sandjak, Ottoman empire for 600...


(Велес)
Subtotal
Total
See also
Statistical regions of the Republic of Macedonia

Statistical Regions of the Republic of Macedonia

-Regions:-References:...



Administrative divisions of the Republic of Macedonia

Administrative divisions of the Republic of Macedonia

This article is about the administrative divisions of the Republic of Macedonia. Macedonia is currently divided into 84 municipalities.-Socialist Republic of Macedonia:...



List of FIPS region codes: Republic of Macedonia (MK)
ISO 3166-2:MK

ISO 3166-2:MK

ISO 3166-2:MK is the entry for Macedonia in ISO 3166-2, part of the ISO 3166 standard published by the International Organization for Standardization , which defines codes for the names of the principal subdivisions of all countries coded in ISO 3166-1.Currently for Macedonia, ISO 3166-2 codes are...


, ISO 3166-2 subdivision codes for the Republic of Macedonia