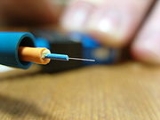 Multi-mode optical fiber
Multi-mode optical fiber
(
multimode fiber
or
MM fiber
or
fibre
) is a type of
optical fiber
Optical fiber
An optical fiber is a flexible, transparent fiber made of a pure glass not much wider than a human hair. It functions as a waveguide, or "light pipe", to transmit light between the two ends of the fiber. The field of applied science and engineering concerned with the design and application of...
mostly used for communication over short distances, such as within a building or on a campus. Typical multimode links have data rates of 10 Mbit/s to 10 Gbit/s over link lengths of up to 600 meters—more than sufficient for the majority of premises applications.
The equipment used for communications over multi-mode optical fiber is less expensive than that for
single-mode optical fiber
Single-mode optical fiber
In fiber-optic communication, a single-mode optical fiber is an optical fiber designed to carry only a single ray of light . Modes are the possible solutions of the Helmholtz equation for waves, which is obtained by combining Maxwell's equations and the boundary conditions...
.