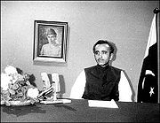 Muhammad Khan Junejo
Muhammad Khan Junejo
was the
tenth
Prime Minister of Pakistan
Prime Minister of Pakistan
The Prime Minister of Pakistan , is the Head of Government of Pakistan who is designated to exercise as the country's Chief Executive. By the Constitution of Pakistan, Pakistan has the parliamentary democratic system of government...
.
Early life
He was born at Sindhri in
Tharparkar
Tharparkar District
Tharparkar District is one of twenty three districts of Sindh province in Pakistan. It is headquarters is at Mithi. It has the lowest Human Development Index of all districts in Sindh.-Demography:...
of
Sindh
Sindh
Sindh historically referred to as Ba'ab-ul-Islam , is one of the four provinces of Pakistan and historically is home to the Sindhi people. It is also locally known as the "Mehran". Though Muslims form the largest religious group in Sindh, a good number of Christians, Zoroastrians and Hindus can...
. He belongs to
Sindhi
Sindhi people
Sindhis are a Sindhi speaking socio-ethnic group of people originating from Sindh, a province Formerly of British India, now in Pakistan. Today Sindhis that live in Pakistan belong to various religious denominations including Islam, Zoroastrianism, Hinduism, Sikhism and Christianity...
Muslim Rajput family of
Junejo
Junejo
Junejo is the name of a Samma Sindhi Rajput tribe in Sindh and in some parts of India mostly in Rajasthan. Among the Sindhi Hindu community Juneja is a common surname and many Juneja people originally from Sindh migrated to India during the independence in 1947. Junejo are also known as Jam in...
clan. Junejo started his political career at the age of twenty one. In 1962, he was elected as a
Member of Provincial Assembly
Member of Provincial Assembly
A Member of Provincial Assembly or MPA is an elected representative to one of the four provincial assemblies of Pakistan, which are:*The Provincial Assembly of Balochistan*The Provincial Assembly of Khyber-Pakhtunkhwa...
of
West Pakistan
West Pakistan
West Pakistan , common name West-Pakistan , in the period between its establishment on 22 November 1955 to disintegration on December 16, 1971. This period, during which, Pakistan was divided, ended when East-Pakistan was disintegrated and succeeded to become which is now what is known as Bangladesh...
representing
Sanghar
Sanghar
Sanghar is a city in Sanghar District, Sindh, Pakistan. Sanghar is the headquarters of Sanghar District and Sanghar Taluka . It is one of the agriculture town situated approximately 265 km from Karachi city...
. He was appointed Minister in the West Pakistan cabinet in July 1963 and held the portfolios of Health, Basic Democracies and Local Government, Works, Communications and Railways.
Death
Muhammad Khan Junejo was elected member of the
National Assembly
National Assembly of Pakistan
The National Assembly of Pakistan is the lower house of the bicameral Majlis-e-Shura, which also compromises the President of Pakistan and Senate . The National Assembly and the Senate both convene at Parliament House in Islamabad...
in 1990 but died three years later of a serious illness in 1993 and was buried in the village of Khan Sahab Din Muhammad Junejo near Sindhri.
External links
|-
|-