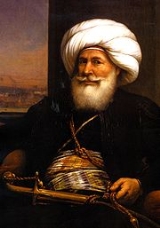 Muhammad Ali of Egypt
Muhammad Ali Pasha al-Mas'ud ibn Agha
(
Mehmet Ali Pasha
in
Albanian
Albanian language
Albanian is an Indo-European language spoken by approximately 7.6 million people, primarily in Albania and Kosovo but also in other areas of the Balkans in which there is an Albanian population, including western Macedonia, southern Montenegro, southern Serbia and northwestern Greece...
;
Kavalalı Mehmet Ali Paşa
in
Turkish
Turkish language
Turkish is a language spoken as a native language by over 83 million people worldwide, making it the most commonly spoken of the Turkic languages. Its speakers are located predominantly in Turkey and Northern Cyprus with smaller groups in Iraq, Greece, Bulgaria, the Republic of Macedonia, Kosovo,...
) (4 March 1769 – 2 August 1849) was a commander in the Ottoman army, who became
Wāli
Wali
Walī , is an Arabic word meaning "custodian", "protector", "sponsor", or authority as denoted by its definition "crown". "Wali" is someone who has "Walayah" over somebody else. For example, in Fiqh the father is wali of his children. In Islam, the phrase ولي الله walīyu 'llāh...
, and self-declared
Khedive
Khedive
The term Khedive is a title largely equivalent to the English word viceroy. It was first used, without official recognition, by Muhammad Ali Pasha , the Wāli of Egypt and Sudan, and vassal of the Ottoman Empire...
of
Egypt
Egypt
Egypt , officially the Arab Republic of Egypt, Arabic: , is a country mainly in North Africa, with the Sinai Peninsula forming a land bridge in Southwest Asia. Egypt is thus a transcontinental country, and a major power in Africa, the Mediterranean Basin, the Middle East and the Muslim world...
and
Sudan
Sudan
Sudan , officially the Republic of the Sudan , is a country in North Africa, sometimes considered part of the Middle East politically. It is bordered by Egypt to the north, the Red Sea to the northeast, Eritrea and Ethiopia to the east, South Sudan to the south, the Central African Republic to the...
. Though not a modern nationalist, he is regarded as the founder of modern Egypt because of the dramatic reforms in the military, economic and cultural spheres that he instituted.