 Motorcycle drag racing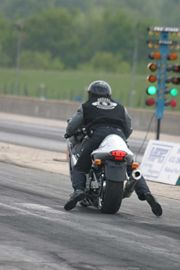 Motorcycle drag racing
(also known as "Sprints") involves two participants lining up at a
dragstrip
Dragstrip
A dragstrip is a facility for conducting automobile and motorcycle acceleration events such as drag racing. Although a quarter mile is the best known measure for a drag track, many tracks are eighth mile tracks...
with a signaled starting line. Upon the starting signal, the riders accelerate down a quarter mile long, two lane, straight paved track where their elapsed time and terminal speed are recorded. The rider to reach the finish line first is the winner. The most well-known form of motorcycle drag racing is the Pro Stock Bike category, although several other categories exist, including 1000 hp nitromethane engine.
See also
Motorcycle sport
Sportbike Motorcycle Drag Racing

Sportbike Motorcycle Drag Racing

Sportbike motorcycle drag racing involves modern sportbikes such as Suzuki and Kawasaki taken off the street and to the track. These motorcycles from the showroom floor such as the Suzuki Hayabusa can run in the 9 second zone in the 1/4 mile with barely any modifications...



Drag racing

Drag racing

Drag racing is a competition in which specially prepared automobiles or motorcycles compete two at a time to be the first to cross a set finish line, from a standing start, in a straight line, over a measured distance, most commonly a ¼-mile straight track....



Top Fuel

Top Fuel

Top Fuel racing is a class of drag racing in which the cars are run on a mix of approximately 90% nitromethane and 10% methanol rather than gasoline or simply methanol. The cars are purpose-built for drag racing, with an exaggerated layout that in some ways resembles open-wheel circuit racing...