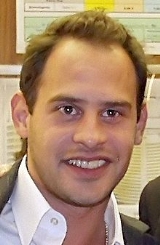 Moritz Bleibtreu
Moritz Bleibtreu
is a German actor.
Bleibtreu was born in Munich, the son of actors
Monica Bleibtreu
Monica Bleibtreu
Monica Bleibtreu was an Austrian actress and screenwriter, best-known in the German-speaking world for her German film, television and stage roles.-Life and career:...
and Hans Brenner, and the great-grand-nephew of the actress Hedwig Bleibtreu.
Bleibtreu grew up in Hamburg. His first appearance on TV was in the late seventies on a children's television series called
Neues aus Uhlenbusch
, written by his mother Monica and Rainer Boldt. This was followed by a role in Boldt's
Ich hatte einen Traum
and alongside his mother in the miniseries
Mit meinen heißen Tränen
. After he left school when he was 16, he lived in Paris and New York City where he attended acting school. In 1992 he began his acting career at the
Schauspielhaus
Deutsches Schauspielhaus
The Deutsches Schauspielhaus is a theatre in the St. Georg quarter of the city of Hamburg, Germany. With a capacity for 1192 spectators, it places it as Germany's largest theatre...
in Hamburg. He also had numerous small parts in television productions.
His roles include the Gray Ghost in the film
Speed Racer
Speed Racer (film)
Speed Racer is a 2008 American live action film adaptation of Tatsuo Yoshida's 1960s Japanese anime series of the same name, produced by Tatsunoko Productions. The film is written and directed by the Wachowskis...
,
Andreas Baader
Andreas Baader
Andreas Bernd Baader was one of the first leaders of the German left-wing militant organization Red Army Faction, also commonly known as the Baader-Meinhof Gang.- Life :...
in
The Baader Meinhof Complex
, Manni in
Run Lola Run
Run Lola Run
Run Lola Run is a 1998 German crime thriller film written and directed by Tom Tykwer and starring Franka Potente as Lola and Moritz Bleibtreu as Manni. The story follows a woman who needs to obtain 100,000 German marks in 20 minutes to save her boyfriend's life...
, and Tarek Fahd in the psychological thriller
Das Experiment
Das Experiment
Das Experiment is a 2001 German film directed by Oliver Hirschbiegel, about a social experiment, based on Mario Giordano's novel Black Box, which resembles Philip Zimbardo's Stanford prison experiment of 1971.-Plot:...
.
Filmography
Partial filmography
Year
Film
Role
Other notes
1995
Stadtgespräch
Karl
1997
Knockin' On Heaven's Door

Knockin' on Heaven's Door (film)

Knockin' on Heaven's Door is a 1997 German criminal comedy, by Thomas Jahn, starring Til Schweiger, Moritz Bleibtreu and Rutger Hauer. Its name derives from the Bob Dylan song which is also on the film's soundtrack.- Story :...



Abdul
1998
Run Lola Run

Run Lola Run

Run Lola Run is a 1998 German crime thriller film written and directed by Tom Tykwer and starring Franka Potente as Lola and Moritz Bleibtreu as Manni. The story follows a woman who needs to obtain 100,000 German marks in 20 minutes to save her boyfriend's life...



Manni
1999
Luna Papa

Luna Papa

Luna Papa is a 1999 movie by Bakhtyar Khudojnazarov with collaboration from Germany, Japan, Tajikistan, Uzbekistan, Austria, Switzerland, France, and Russia....



Nasreddin
2001
Im Juli

Im Juli

-Plot:At the beginning of his summer holiday, a somewhat naïve trainee teacher Daniel buys a ring from a stall run by Juli . The ring bears a Mayan sun symbol, which, according to Juli, has the power to lead him to the woman of his dreams, whom he will recognise by a similar sun symbol...



Daniel Bannier
2001
The Invisible Circus

The Invisible Circus (film)

The Invisible Circus is a 2001 drama film, directed by Adam Brooks, and starring Cameron Diaz, Jordana Brewster, Christopher Eccleston and Blythe Danner. It is based on Jennifer Egan's best-selling novel.-Storyline:...



Eric
Das Experiment

Das Experiment

Das Experiment is a 2001 German film directed by Oliver Hirschbiegel, about a social experiment, based on Mario Giordano's novel Black Box, which resembles Philip Zimbardo's Stanford prison experiment of 1971.-Plot:...



Tarek Fahd / Number 77
Lammbock

Lammbock

Lammbock is a 2001 German stoner film. The movie is based around two pizza delivery guys who decide to up their income by adding marijuana to the menu and get into trouble after attracting the attention of an undercover cop. There are numerous subplots, and the movie is essentially split up into...



Kai
Taking Sides

Taking Sides (film)

Taking Sides is a 2001 German-French-Austrian-British co-production starring Harvey Keitel and Stellan Skarsgård set during the period of denazification investigations conducted in post-war Germany after the Second World War...



Lt. David Wills
2002
Solino

Solino

Solino is a 2002 Italian-German movie directed by Fatih Akın and starring Moritz Bleibtreu, Barnaby Metschurat, Gigi Savoia and Antonella Attili.-Plot:The movie portrays the story of an Italian family emigrated in Germany in the 1970s...



Giancarlo
2004
Germanikus
Kaiser Titus
C(r)ook
Valentin
Agnes and His Brothers

Agnes and His Brothers

-Cast:* Martin Weiß as Agnes Tschirner* Moritz Bleibtreu as Hans-Jörg Tschirner* Herbert Knaup as Werner Tschirner* Katja Riemann as Signe* Tom Schilling as Ralf* Suzan Anbeh as Desiree* Vadim Glowna as Günther* Margit Carstensen as Roxy...



Hans-Jörg Tschirner
Fakiren Fra Bilbao (danish)
Fakiren
2005
The Keeper: The Legend of Omar Khayyam

The Keeper: The Legend of Omar Khayyam

The Keeper: The Legend of Omar Khayyam is an independently-released drama film about the life of the famous Persian intellectual Omar Khayyám. It was directed by Kayvan Mashayekh and stars Vanessa Redgrave and Moritz Bleibtreu...



Malikshah
About the Looking for and the Finding of Love
Mimi Nachtigal
Munich

Munich (film)

Munich is a 2005 historical fiction film about the Israeli government's secret retaliation attacks after the massacre of Israeli athletes by the Black September terrorist group during the 1972 Summer Olympics. The film stars Eric Bana and was produced and directed by Steven Spielberg...



Andreas
2006
Atomised – The Elementary Particles
Bruno
The Stone Council
Serguei Makov
2007
The Walker

The Walker

The Walker is a 2007 drama film that was written and directed by Paul Schrader. It is a British-American independent production and is the latest installment in Schrader's "night workers" series of films, starting with Taxi Driver in 1976, and then followed by American Gigolo in 1980 and Light...



Emek Yoglu
La Masseria Delle Allodole

La Masseria Delle Allodole

La masseria delle allodole is a 2007 Italian film directed by Taviani brothers about the Armenian Genocide. The film is also known as "The Lark Farm".-Plot:...



Ferzan
Free Rainer – Dein Fernseher lügt
Rainer
2008
Chiko
Brownie
Speed Racer

Speed Racer (film)

Speed Racer is a 2008 American live action film adaptation of Tatsuo Yoshida's 1960s Japanese anime series of the same name, produced by Tatsunoko Productions. The film is written and directed by the Wachowskis...



Grey Ghost
Adam Resurrected

Adam Resurrected

Adam Resurrected is an American-German-Israeli film, directed by Paul Schrader and adapted from Yoram Kaniuk's novel of the same name published in Israel in 1968 .Jeff Goldblum stars as the titular character, alongside Willem Dafoe, Derek Jacobi and Ayelet Zurer...



Joseph Gracci
The Baader Meinhof Complex
Andreas Baader

Andreas Baader

Andreas Bernd Baader was one of the first leaders of the German left-wing militant organization Red Army Faction, also commonly known as the Baader-Meinhof Gang.- Life :...



Female Agents
SS Colonel Heindrich
2009
Soul Kitchen

Soul Kitchen (film)

Soul Kitchen is a 2009 German comedy film directed by Fatih Akın, with a screenplay by Akin and Adam Bousdoukos. Bousdoukos based the story on his own experiences as the owner of a Greek tavern named "Taverna", where Akin was a regular customer. Akin filmed the movie entirely in the Hamburg...



Illias Kazantsakis
2010
Jew Suss: Rise and Fall

Jew Suss: Rise and Fall

Jew Suss: Rise and Fall is a 2010 German drama film directed by Oskar Roehler, picturizing the creation process of the 1940 antisemitic Nazi propaganda movie Jud Süß. It was nominated for the Golden Bear at the 60th Berlin International Film Festival....



Joseph Goebbels

Joseph Goebbels

Paul Joseph Goebbels was a German politician and Reich Minister of Propaganda in Nazi Germany from 1933 to 1945. As one of Adolf Hitler's closest associates and most devout followers, he was known for his zealous oratory and anti-Semitism...



Young Goethe in Love
Tangled
Flynn Rider
German voice
2011
My Best Enemy
Viktor Israel Kaufmann
External links