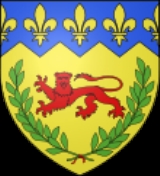 Mont-Saint-Aignan
People
Population
style="font-weight: bold; font-size: 1.1em; margin-bottom: 0.5em"|Population history
1962
1968
1975
1982
1990
1999
2006
9989
16,031
19,146
19,736
19,961
21,265
21,150
Starting in 1962: Population without duplicates
Places of interest
The church of St.Jacques, dating from the eleventh century, used as a workshop after the Revolution.
The church of St.Thomas, dating from the twelfth century.
The sixteenth century church of St.Aignan.
The nineteenth century church of St.Andre.
The modern church of Notre-Dame-de-Miséricorde (1970).
The chapel of the Petit-Séminaire (1862).
Several ancient houses.
Colleges and universities
See also
Communes of the Seine-Maritime department
Seine-Maritime

Seine-Maritime

Seine-Maritime is a French department in the Haute-Normandie region in northern France. It is situated on the northern coast of France, at the mouth of the Seine, and includes the cities of Rouen and Le Havre...



Normandy

Normandy

Normandy is a geographical region corresponding to the former Duchy of Normandy. It is in France.The continental territory covers 30,627 km² and forms the preponderant part of Normandy and roughly 5% of the territory of France. It is divided for administrative purposes into two régions:...



External links