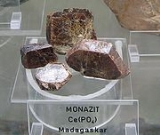 Monazite
Monazite
is a reddish-brown phosphate mineral containing
rare earth
Rare earth element
As defined by IUPAC, rare earth elements or rare earth metals are a set of seventeen chemical elements in the periodic table, specifically the fifteen lanthanides plus scandium and yttrium...
metals. It occurs usually in small isolated
crystal
Crystal
A crystal or crystalline solid is a solid material whose constituent atoms, molecules, or ions are arranged in an orderly repeating pattern extending in all three spatial dimensions. The scientific study of crystals and crystal formation is known as crystallography...
s. There are actually at least four different kinds of monazite, depending on relative elemental composition of the mineral:
The elements in parentheses are listed in the order in which they are in relative proportion within the mineral, so that lanthanum is the most common rare earth in monazite-La, and so forth.