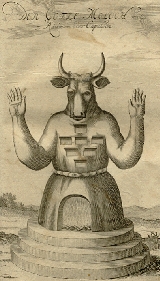 Moloch
Moloch
— also rendered as
Molech
,
Molekh
,
Molok
,
Molek
,
Molock
, or
Moloc
— is the name of an ancient Semitic god. Moloch was historically affiliated with cultures throughout the
Middle East
Middle East
The Middle East is a region that encompasses Western Asia and Northern Africa. It is often used as a synonym for Near East, in opposition to Far East...
, including the
Ammon
Ammon
Ammon , also referred to as the Ammonites and children of Ammon, was an ancient nation located east of the Jordan River, Gilead, and the Dead Sea, in present-day Jordan. The chief city of the country was Rabbah or Rabbath Ammon, site of the modern city of Amman, Jordan's capital...
ite, Hebrew,
Canaan
Canaan
Canaan is a historical region roughly corresponding to modern-day Israel, Palestine, Lebanon, and the western parts of Jordan...
ite,
Phoenicia
Phoenicia
Phoenicia , was an ancient civilization in Canaan which covered most of the western, coastal part of the Fertile Crescent. Several major Phoenician cities were built on the coastline of the Mediterranean. It was an enterprising maritime trading culture that spread across the Mediterranean from 1550...
n and related cultures in
North Africa
North Africa
North Africa or Northern Africa is the northernmost region of the African continent, linked by the Sahara to Sub-Saharan Africa. Geopolitically, the United Nations definition of Northern Africa includes eight countries or territories; Algeria, Egypt, Libya, Morocco, South Sudan, Sudan, Tunisia, and...
and the
Levant
Levant
The Levant or ) is the geographic region and culture zone of the "eastern Mediterranean littoral between Anatolia and Egypt" . The Levant includes most of modern Lebanon, Syria, Jordan, Israel, the Palestinian territories, and sometimes parts of Turkey and Iraq, and corresponds roughly to the...
.
As a god worshipped by the Phoenicians, Moloch had associations with a particular kind of propitiatory
child sacrifice
Child sacrifice
Child sacrifice is the ritualistic killing of children in order to please, propitiate or force a god or supernatural beings in order to achieve a desired result...
by parents.