 Moderator of the General Assembly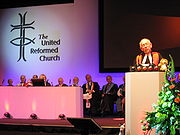 The
Moderator of the General Assembly
is the
chairperson
Chair (official)
The chairman is the highest officer of an organized group such as a board, committee, or deliberative assembly. The person holding the office is typically elected or appointed by the members of the group. The chairman presides over meetings of the assembled group and conducts its business in an...
of a General Assembly, the highest court of a presbyterian or
reformed
Reformed churches
The Reformed churches are a group of Protestant denominations characterized by Calvinist doctrines. They are descended from the Swiss Reformation inaugurated by Huldrych Zwingli but developed more coherently by Martin Bucer, Heinrich Bullinger and especially John Calvin...
church. Kirk Sessions and Presbyteries may also style the chairperson as moderator.
Presbyterian churches are ordered by a
presbyterian polity
Presbyterian polity
Presbyterian polity is a method of church governance typified by the rule of assemblies of presbyters, or elders. Each local church is governed by a body of elected elders usually called the session or consistory, though other terms, such as church board, may apply...
, including a hierarchy of councils or courts of elders, from the local church (kirk) Session through presbyteries (and perhaps synods) to a General Assembly.
The moderator presides over the meeting of the court, much as a convener presides over the meeting of a church committee. The moderator is thus the chairperson, and is understood to be a member of the court acting
primus inter pares
Primus inter pares
Primus inter pares is Latin phrase describing the most senior person of a group sharing the same rank or office.When not used in reference to a specific title, it may indicate that the person so described is formally equal, but looked upon as an authority of special importance by their peers...
. The moderator calls and constitutes meetings, presides at them, and closes them in prayer. The moderator has a casting, but not a deliberative vote. During a meeting, the title "moderator" is used by all other members of the court as a form of address, but this may not be continued outside the meetings. Thus this convention expresses deference to the authority of the court rather than an honour for the moderator as an individual.
Many moderators act as ambassadors for their general assembly when it is not sitting, and visit many of the local churches in their denomination.
See also
Lists of Moderators of the General Assembly:
Presbyterian Church (USA) (1983 - present)
United Presbyterian Church in the United States of America (1958 - 1983)
Presbyterian Church in the United States of America (1789-1958)
Presbyterian Church in the United States (1861 - 1983)
Other Articles:
External links
Westminster Assembly

Westminster Assembly

The Westminster Assembly of Divines was appointed by the Long Parliament to restructure the Church of England. It also included representatives of religious leaders from Scotland...


, 1645 "The Form of Presbyterial Church-Government" online at reformed.org