 Mezzanine (architecture)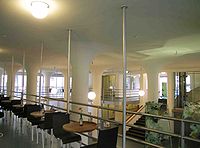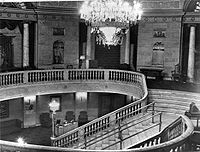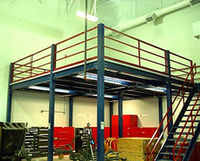 In
architecture
Architecture
Architecture is both the process and product of planning, designing and construction. Architectural works, in the material form of buildings, are often perceived as cultural and political symbols and as works of art...
, a
mezzanine
or
entresol
is an intermediate
floor
Floor
A floor is the walking surface of a room or vehicle. Floors vary from simple dirt in a cave to many-layered surfaces using modern technology...
between main floors of a
building
Building
In architecture, construction, engineering, real estate development and technology the word building may refer to one of the following:...
, and therefore typically not counted among the overall floors of a building. Often, a mezzanine is low-ceilinged and projects in the form of a
balcony
Balcony
Balcony , a platform projecting from the wall of a building, supported by columns or console brackets, and enclosed with a balustrade.-Types:The traditional Maltese balcony is a wooden closed balcony projecting from a...
. The term is also used for the lowest balcony in a
theatre
Theatre
Theatre is a collaborative form of fine art that uses live performers to present the experience of a real or imagined event before a live audience in a specific place. The performers may communicate this experience to the audience through combinations of gesture, speech, song, music or dance...
, or for the first few rows of seats in that balcony. The word
mezzanine
comes from Italian
mezzano
"middle".
Overview
The floor often projects itself from the walls and does not completely close the view of the ceiling from the floor immediately below. In short, a mezzanine floor and the floor below it share the same ceiling. Mezzanine floors are often located between the ground floor and the first floor but it is not unusual to have mezzanine floors in the upper floors of a building.
In
Palladian architecture
Palladian architecture
Palladian architecture is a European style of architecture derived from the designs of the Venetian architect Andrea Palladio . The term "Palladian" normally refers to buildings in a style inspired by Palladio's own work; that which is recognised as Palladian architecture today is an evolution of...
the mezzanine is a low upper floor, usually for servants and/or storage. In
stadium
Stadium
A modern stadium is a place or venue for outdoor sports, concerts, or other events and consists of a field or stage either partly or completely surrounded by a structure designed to allow spectators to stand or sit and view the event.)Pausanias noted that for about half a century the only event...
s, the "mezzanine" level is a term often used for premium or "club level" seating, typically just a few rows deep and hanging from the upper tier, affording an unobstructed view of the playing field.
In
transit station
Metro station
A metro station or subway station is a railway station for a rapid transit system, often known by names such as "metro", "underground" and "subway". It is often underground or elevated. At crossings of metro lines, they are multi-level....
s, a mezzanine level is often encountered between the station's entry elevation and the platform level, where the service is boarded; this may contain the area where fares are paid, or provide access to different service platforms. The term is used particularly where an open concept of station allows the platforms to be viewed from that level.
Industrial mezzanines
In industrial applications, mezzanine floor systems are semi-permanent floor systems typically installed within buildings, built between two permanent original stories. These structures are usually free standing and in most cases can be dismantled and relocated. Commercially sold mezzanine structures are generally constructed of three main materials; steel, aluminum, and fiberglass. The decking or flooring of a mezzanine will vary by application but is generally composed of b-deck underlayment and wood product finished floor or a heavy duty steel, aluminum or fiberglass grating.
The mezzanine is often used in shops and similar spaces for storage of tools or materials. The high roof of the shop is ideal for a mezzanine, and offices can be put either below or above it. Mezzanines are frequently used in industrial operations such as warehousing, distribution or manufacturing. These facilities have high ceilings, allowing unused space to be utilized within the vertical cube. Industrial mezzanine structures are typically either structural, roll formed, rack-supported, or shelf-supported, allowing high density storage within the mezzanine structure.
External links