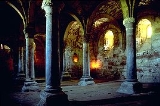 Memleben
Memleben
is a village and a former municipality in the
Burgenlandkreis
Burgenlandkreis
The Burgenlandkreis was a district in the south of Saxony-Anhalt, Germany. Neighboring districts are Merseburg-Querfurt, Weißenfels, Leipziger Land, Aschersleben-Staßfurt, Altenburger Land, Greiz, district-free Gera, Saale-Holzland, Weimarer Land, Sömmerda and the Kyffhäuserkreis.- History :The...
district, in
Saxony-Anhalt
Saxony-Anhalt
Saxony-Anhalt is a landlocked state of Germany. Its capital is Magdeburg and it is surrounded by the German states of Lower Saxony, Brandenburg, Saxony, and Thuringia.Saxony-Anhalt covers an area of...
,
Germany
Germany
Germany , officially the Federal Republic of Germany , is a federal parliamentary republic in Europe. The country consists of 16 states while the capital and largest city is Berlin. Germany covers an area of 357,021 km2 and has a largely temperate seasonal climate...
. Since 1 July 2009, it is part of the municipality
Kaiserpfalz
Kaiserpfalz, Saxony-Anhalt
Kaiserpfalz is a municipality in the Burgenlandkreis district, in Saxony-Anhalt, Germany. It was formed by the merger of the previously independent municipalities Bucha, Memleben and Wohlmirstedt, on 1 July 2009....
. It is located on the river
Unstrut
Unstrut
The Unstrut is a river in Germany and a left tributary of the Saale. It originates in northern Thuringia near Dingelstädt and its catchment area is the whole of the Thuringian Basin...
.
In the 10th century the
Pfalz
Kaiserpfalz
The term Kaiserpfalz or Königspfalz refers to a number of castles across the Holy Roman Empire which served as temporary, secondary seats of power for the Holy Roman Emperor in the Early and High Middle Ages...
or
villa regia
of Memleben, a kind of seasonal king's court, was one of the favourite places of the German king Henry the Fowler and his son
Otto I the Great
Otto I, Holy Roman Emperor
Otto I the Great , son of Henry I the Fowler and Matilda of Ringelheim, was Duke of Saxony, King of Germany, King of Italy, and "the first of the Germans to be called the emperor of Italy" according to Arnulf of Milan...
.
On behalf of
Otto II
Otto II, Holy Roman Emperor
Otto II , called the Red, was the third ruler of the Saxon or Ottonian dynasty, the son of Otto the Great and Adelaide of Italy.-Early years and co-ruler with Otto I:...
, son of Otto I, a Benedictine monastery,
Memleben Abbey
Memleben Abbey
Memleben Abbey was a Benedictine monastery, now ruined, on the Unstrut in Memleben, in the Burgenlandkreis near Nebra in Saxony-Anhalt, Germany.-History:The royal villa of Memleben acquired considerable importance under the Ottonian Dynasty...
, was built there in 973 to honour the memory of his father. It became one of the most important monasteries in the German kingdom for a short time.
Remains of the church and the monastery are still to be seen.
Nowadays the village has about 800 inhabitants.
It also has an animal training center open to the public.