Mazda Taiki
The
Mazda Taiki
is a one-off concept car produced by
Mazda
Mazda
is a Japanese automotive manufacturer based in Fuchū, Aki District, Hiroshima Prefecture, Japan.In 2007, Mazda produced almost 1.3 million vehicles for global sales...
, and is the fourth car in Mazda's 'Nagare' design series. Mazda says the Taiki "reflects one possible direction for a future generation of Mazda sports cars aimed at helping to create a sustainable society".
Drivetrain
The Taiki uses a front engine, rear-wheel drive layout and is powered by Mazda's next generation RENESIS rotary 16X engine, which is mated to a 7-speed, double-clutch gearbox. The 16X engine is said to replace the
RX-8
Mazda RX-8
The Mazda RX-8 is a sports car manufactured by Mazda Motor Corporation. It first appeared in 2001 at the North American International Auto Show. It is the successor to the RX-7 and, like its predecessors in the RX range, it is powered by a Wankel engine. The RX-8 began North American sales in the...
's 13B engine. The Taiki is named after Taiki Endo.
Exterior
The exterior design is inspired by flowing robes and carp streamers. The Taiki has scissor doors and a very impressive drag coefficient of 0.25. Even the wheels and tires were designed with aerodynamics in mind.
Interior
The interior colours are inspired by
Yin and Yang
Yin and yang
In Asian philosophy, the concept of yin yang , which is often referred to in the West as "yin and yang", is used to describe how polar opposites or seemingly contrary forces are interconnected and interdependent in the natural world, and how they give rise to each other in turn. Opposites thus only...
. The driver's side of the cabin is black, while the passenger side is white.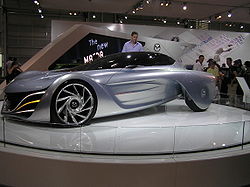 External links