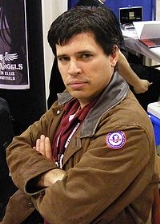 Max Brooks
Maximillian Michael
"
Max
"
Brooks
(born May 22, 1972) is an American
author
Author
An author is broadly defined as "the person who originates or gives existence to anything" and that authorship determines responsibility for what is created. Narrowly defined, an author is the originator of any written work.-Legal significance:...
and
screenwriter
Screenwriter
Screenwriters or scriptwriters or scenario writers are people who write/create the short or feature-length screenplays from which mass media such as films, television programs, Comics or video games are based.-Profession:...
, with a particular interest in
zombie
Zombie
Zombie is a term used to denote an animated corpse brought back to life by mystical means such as witchcraft. The term is often figuratively applied to describe a hypnotized person bereft of consciousness and self-awareness, yet ambulant and able to respond to surrounding stimuli...
s. Brooks is also a television and
voice-over
Voice-over
Voice-over is a production technique where a voice which is not part of the narrative is used in a radio, television production, filmmaking, theatre, or other presentations...
actor.
Early life and education
Brooks was born in
New York City
New York City
New York is the most populous city in the United States and the center of the New York Metropolitan Area, one of the most populous metropolitan areas in the world. New York exerts a significant impact upon global commerce, finance, media, art, fashion, research, technology, education, and...
, the son of the Jewish American director, producer, writer, and actor
Mel Brooks
Mel Brooks
Mel Brooks is an American film director, screenwriter, composer, lyricist, comedian, actor and producer. He is best known as a creator of broad film farces and comic parodies. He began his career as a stand-up comic and as a writer for the early TV variety show Your Show of Shows...
and
Italian American
Italian American
An Italian American , is an American of Italian ancestry. The designation may also refer to someone possessing Italian and American dual citizenship...
actress
Anne Bancroft
Anne Bancroft
Anne Bancroft was an American actress associated with the Method acting school, which she had studied under Lee Strasberg....
.
He is a graduate of
Pitzer College
Pitzer College
Pitzer College is a private residential liberal arts college located in Claremont, California, a college town approximately east of downtown Los Angeles. Pitzer College is one of the Claremont Colleges....
, majoring in history, and delivered the commencement speech for the class of 2011.
Writing
From 2001 to 2003, Brooks was a member of the writing team at
Saturday Night Live
Saturday Night Live
Saturday Night Live is a live American late-night television sketch comedy and variety show developed by Lorne Michaels and Dick Ebersol. The show premiered on NBC on October 11, 1975, under the original title of NBC's Saturday Night.The show's sketches often parody contemporary American culture...
.
Brooks is the author of
The Zombie Survival Guide
The Zombie Survival Guide
The Zombie Survival Guide, written by American author Max Brooks and published in 2003, is a survival manual dealing with the fictional potentiality of a zombie attack. It contains detailed plans for the average citizen to survive zombie uprisings of varying intensity and reach, and describes...
. The book touches on what it describes as pop cultural myths about zombies. The book was later followed up in 2009 by
The Zombie Survival Guide: Recorded Attacks
, a
graphic novel
Graphic novel
A graphic novel is a narrative work in which the story is conveyed to the reader using sequential art in either an experimental design or in a traditional comics format...
depicting several of the events detailed in the book's latter section.
Brooks' book
World War Z: An Oral History of the Zombie War
World War Z
World War Z: An Oral History of the Zombie War is a 2006 post-apocalyptic horror novel by Max Brooks. It is a follow-up to his 2003 book The Zombie Survival Guide. Rather than a grand overview or narrative, World War Z is a collection of individual accounts in the form of first-person anecdote...
, which deals with the war between the human race and zombies, was released on September 12, 2006. Paramount Pictures has acquired the movie rights;
Brad Pitt
Brad Pitt
William Bradley "Brad" Pitt is an American actor and film producer. Pitt has received two Academy Award nominations and four Golden Globe Award nominations, winning one...
's production company
Plan B Entertainment
Plan B Entertainment
Plan B Entertainment is a film production company founded by Brad Pitt, Brad Grey, and Jennifer Aniston. In 2006, Pitt became the sole owner; the company currently holds a release deal with Paramount Pictures, along with Warner Bros...
will produce the film. In the October 2006 issue of
Fangoria Magazine
, Brooks stated that he will not be writing the screenplay for the motion picture, as he feels he is not an accomplished enough screenwriter to "do it right" (
J. Michael Straczynski
J. Michael Straczynski
Joseph Michael Straczynski , known professionally as J. Michael Straczynski and informally as Joe Straczynski or JMS, is an American writer and television producer. He works in films, television series, novels, short stories, comic books, and radio dramas. He is a playwright, a former journalist,...
is writing the screenplay).
Brooks wrote the introduction for the hardcover collected edition of
Dynamite Entertainment
Dynamite Entertainment
Dynamite Entertainment is an American comic book company that primarily publishes licensed franchises of adaptations of other media. These include adaptations of film properties such as Army of Darkness, Terminator and RoboCop, literary properties such as Zorro, Dracula, Sherlock Holmes, Alice in...
's zombie miniseries
Raise the Dead
released in 2007.
The New Dead
, a 2010 anthology of previously unpublished zombie stories edited by
Christopher Golden
Christopher Golden
Christopher Golden is an American author of horror, fantasy, and suspense novels for adults, teens, and young readers.Golden was born and raised in Massachusetts, where he still lives with his family. He is a graduate of Tufts University...
, contains an additional World War Z story titled "Closure, LTD."
In 2010, Brooks wrote the
IDW
IDW Publishing
IDW Publishing, also known as Idea + Design Works, LLC and IDW, is an American publisher of comic books and comic strip collections. The company was founded in 1999 and has been awarded the title "Publisher of the Year Under 5% Market Share" for the years 2004, 2005 and 2006 by Diamond Comic...
comic book mini-series
G.I. Joe: Hearts & Minds
G.I. Joe (IDW Publishing)
G.I. Joe is a comic book series by IDW Publishing, based upon Hasbro's G.I. Joe characters and toy line.The series is marketed as three ongoing series , two mini-series and a small series of one-shots...
.
Acting and voice-over work
Brooks has a number of other creative credits. As an actor, he has been seen in
Roseanne
Roseanne (TV series)
Roseanne is an American sitcom broadcast on ABC from October 18, 1988 to May 20, 1997. Starring Roseanne Barr, the show revolved around the Conners, an Illinois working class family...
,
To Be or Not to Be
To Be or Not to Be (1983 film)
To Be or Not to Be is a 1983 20th Century Fox comedy-drama film directed by Alan Johnson, produced by Mel Brooks with Howard Jeffrey as executive producer and Irene Walzer as associate producer. The screenplay was written by Ronny Graham and Thomas Meehan, based on the original story by Melchior...
,
Pacific Blue
Pacific Blue (TV series)
Pacific Blue is an American crime drama series about a team of police officers with the Santa Monica Police Department who patrolled its beaches on bicycles. The show ran for five seasons on the USA Network, from March 2, 1996 to April 9, 2000, with a total of one hundred and one episodes...
, and
7th Heaven
7th Heaven
7th Heaven is an American family drama television series, created and produced by Brenda Hampton. The series premiered on August 26, 1996, on the WB, the first time that the network aired Monday night programming, and was originally broadcast from August 26, 1996 to May 13, 2007...
. He also has a career voicing animation; his voice has been featured in the animated shows
Batman Beyond
Batman Beyond
Batman Beyond is an American animated television series created by Warner Bros. Animation in collaboration with DC Comics as a continuation of the Batman legacy...
,
Buzz Lightyear of Star Command
Buzz Lightyear of Star Command
Buzz Lightyear of Star Command is an American animated science fiction/adventure/comedy series produced by Walt Disney Television. The character is from the planet Zurtron. The series originally aired on UPN and ABC from October 2000 to January 2001 as part of Disney's One Saturday Morning...
, and
Justice League
Justice League (TV series)
Justice League is an American animated television series about a team of superheroes which ran from 2001 to 2004 on Cartoon Network. The show was produced by Warner Bros. Animation. It is based on the Justice League of America and associated comic book characters published by DC Comics...
. During the start of the 3rd season of
Lost Tapes
Lost Tapes
Lost Tapes is an American horror/thriller docudrama television series that airs on Animal Planet. Produced by Go Go Luckey Entertainment, the program presents fictional found footage depicting traumatic encounters with cryptozoological creatures , including the Chupacabra and Bigfoot, and even...
, he was cast as himself in the zombie episode, telling the audience about how zombies come to be. He also appeared on Spike TV series "
Deadliest Warrior
Deadliest Warrior
Deadliest Warrior is a television program in which information on historical or modern warriors and their weapons are used to determine which of them is the "deadliest" based upon tests performed during each episode...
", in which he represented the zombie team in the "Vampires vs Zombies" episode, as one of the Zombie experts along with Matt Mogk the Founder of the
Zombie Research Society
.
External links