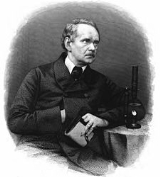 Matthias Jakob Schleiden
Matthias Jakob Schleiden
(5 April 1804 23 June 1881) was a
German
Germany
Germany , officially the Federal Republic of Germany , is a federal parliamentary republic in Europe. The country consists of 16 states while the capital and largest city is Berlin. Germany covers an area of 357,021 km2 and has a largely temperate seasonal climate...
botanist and co-founder of the
cell theory
Cell theory
Cell theory refers to the idea that cells are the basic unit of structure in every living thing. Development of this theory during the mid 17th century was made possible by advances in microscopy. This theory is one of the foundations of biology...
, along with
Theodor Schwann
Theodor Schwann
Theodor Schwann was a German physiologist. His many contributions to biology include the development of cell theory, the discovery of Schwann cells in the peripheral nervous system, the discovery and study of pepsin, the discovery of the organic nature of yeast, and the invention of the term...
and
Rudolf Virchow
Rudolf Virchow
Rudolph Carl Virchow was a German doctor, anthropologist, pathologist, prehistorian, biologist and politician, known for his advancement of public health...
.
Born in
Hamburg
Hamburg
-History:The first historic name for the city was, according to Claudius Ptolemy's reports, Treva.But the city takes its modern name, Hamburg, from the first permanent building on the site, a castle whose construction was ordered by the Emperor Charlemagne in AD 808...
, Schleiden was educated at
Heidelberg
Ruprecht Karl University of Heidelberg
The Ruprecht-Karls-Universität Heidelberg is a public research university located in Heidelberg, Baden-Württemberg, Germany. Founded in 1386, it is the oldest university in Germany and was the third university established in the Holy Roman Empire. Heidelberg has been a coeducational institution...
, then practiced law in Hamburg, but soon developed his love for the
botany
Botany
Botany, plant science, or plant biology is a branch of biology that involves the scientific study of plant life. Traditionally, botany also included the study of fungi, algae and viruses...
into a full-time pursuit. Schleiden preferred to study plant structure under the
microscope
Microscope
A microscope is an instrument used to see objects that are too small for the naked eye. The science of investigating small objects using such an instrument is called microscopy...
. While a professor of botany at the University of Jena, he wrote Contributions to Phytogenesis (1838), in which he stated that the different parts of the plant organism are composed of cells.