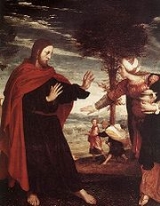 Mary Magdalene
Mary Magdalene
was one of Jesus' most celebrated disciples, and the most important woman disciple in the movement of Jesus. Jesus cleansed her of "seven demons", conventionally interpreted as referring to complex illnesses. She became most prominent during his last days, being present at the cross after the male disciples (excepting John the Beloved) had fled, and at his burial. She was the first person to see
Jesus
Jesus
Jesus of Nazareth , commonly referred to as Jesus Christ or simply as Jesus or Christ, is the central figure of Christianity...
after his
Resurrection
Resurrection of Jesus
The Christian belief in the resurrection of Jesus states that Jesus returned to bodily life on the third day following his death by crucifixion. It is a key element of Christian faith and theology and part of the Nicene Creed: "On the third day he rose again in fulfillment of the Scriptures"...
, according to both
John 20
John 20
John 20 is the twentieth chapter of the Gospel of John in the Bible. It relates the story of Jesus' resurrection. It relates how Mary Magdalene went to the tomb of Jesus and found it empty. Jesus appears to her and speaks of his resurrection and dispatches Mary to tell the news to the disciples. ...
and .
Mary Magdalene is considered by the Catholic, Orthodox,
Anglican
Anglicanism
Anglicanism is a tradition within Christianity comprising churches with historical connections to the Church of England or similar beliefs, worship and church structures. The word Anglican originates in ecclesia anglicana, a medieval Latin phrase dating to at least 1246 that means the English...
, and
Lutheran
Lutheranism
Lutheranism is a major branch of Western Christianity that identifies with the theology of Martin Luther, a German reformer. Luther's efforts to reform the theology and practice of the church launched the Protestant Reformation...
churches to be a
saint
Saint
A saint is a holy person. In various religions, saints are people who are believed to have exceptional holiness.In Christian usage, "saint" refers to any believer who is "in Christ", and in whom Christ dwells, whether in heaven or in earth...
, with a
feast day
Calendar of saints
The calendar of saints is a traditional Christian method of organizing a liturgical year by associating each day with one or more saints and referring to the feast day of said saint...
of July 22.