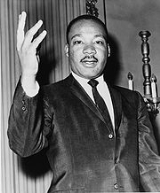 Martin Luther King, Jr.
Martin Luther King, Jr.
(January 15, 1929 – April 4, 1968) was an American
clergyman
Pastor
The word pastor usually refers to an ordained leader of a Christian congregation. When used as an ecclesiastical styling or title, this role may be abbreviated to "Pr." or often "Ps"....
, activist, and prominent leader in the African-American Civil Rights Movement. He is best known for being an iconic figure in the advancement of civil rights in the United States and around the world, using
nonviolent
Nonviolence
Nonviolence has two meanings. It can refer, first, to a general philosophy of abstention from violence because of moral or religious principle It can refer to the behaviour of people using nonviolent action Nonviolence has two (closely related) meanings. (1) It can refer, first, to a general...
methods following the teachings of
Mahatma Gandhi
Mahatma Gandhi
Mohandas Karamchand Gandhi , pronounced . 2 October 1869 – 30 January 1948) was the pre-eminent political and ideological leader of India during the Indian independence movement...
. King has become a national icon in the history of
modern American liberalism
Modern American liberalism
Modern American liberalism is a form of liberalism developed from progressive ideals such as Theodore Roosevelt's New Nationalism, Woodrow Wilson's New Freedom, Franklin D. Roosevelt's New Deal, John F. Kennedy's New Frontier, and Lyndon Johnson's Great Society. It combines social liberalism and...
.
A
Baptist
Progressive National Baptist Convention
The Progressive National Baptist Convention, Incorporated is a convention of African-American Baptists emphasizing civil rights and social justice....
minister, King became a civil rights activist early in his career.
True peace is not merely the absence of tension: it is the presence of justice.

In a 1955 response to an accusation that he was "disturbing the peace" by his activism during the Montgomery Bus Boycott|Montgomery Bus Boycott in Montgomery, Alabama, as quoted in Let the Trumpet Sound : A Life of Martin Luther King, Jr (1982) by Stephen B. Oates
Men often hate each other because they fear each other; they fear each other because they don't know each other; they don't know each other because they can not communicate; they can not communicate because they are separated.

Stride Toward Freedom : the Montgomery Story (1958)
Man is man because he is free to operate within the framework of his destiny. He is free to deliberate, to make decisions, and to choose between alternatives. He is distinguished from animals by his freedom to do evil or to do good and to walk the high road of beauty or tread the low road of ugly degeneracy.

The Measures of Man (1959)
I submit to you that if a man has not discovered something that he will die for, he isn't fit to live.

Speech in Detroit, Michigan (1963-06-23)
A riot is the language of the unheard.

Address given in Birmingham, Alabama (1963-12-31)