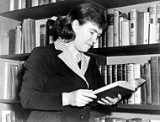 Margaret Mead
Margaret Mead
was an
American
United States
The United States of America is a federal constitutional republic comprising fifty states and a federal district...
cultural anthropologist
Cultural anthropology
Cultural anthropology is a branch of anthropology focused on the study of cultural variation among humans, collecting data about the impact of global economic and political processes on local cultural realities. Anthropologists use a variety of methods, including participant observation,...
, who was frequently a featured writer and speaker in the mass media throughout the 1960s and 1970s.
She was both a popularizer of the insights of anthropology into modern American and
Western culture
Western culture
Western culture, sometimes equated with Western civilization or European civilization, refers to cultures of European origin and is used very broadly to refer to a heritage of social norms, ethical values, traditional customs, religious beliefs, political systems, and specific artifacts and...
, and also a respected, if controversial, academic anthropologist. Her reports about the attitudes towards sex in South Pacific and Southeast Asian traditional cultures amply informed the 1960s
sexual revolution
Sexual revolution
The sexual revolution was a social movement that challenged traditional codes of behavior related to sexuality and interpersonal relationships throughout the Western world from the 1960s into the 1980s...
.
If we are to achieve a richer culture, rich in contrasting values, we must recognize the whole gamut of human potentialities, and so weave a less arbitrary social fabric, one in which each diverse human gift will find a fitting place.

Sex and Temperament in Three Primitive Societies (1935)
Never doubt that a small group of thoughtful, committed, citizens can change the world. Indeed, it is the only thing that ever has.

Margaret Mead: The Making of an American Icon Nancy C. Lutkehaus
To cherish the life of the world.

Epitaph