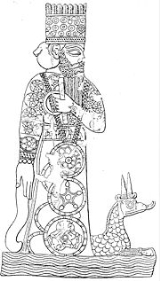 Marduk
Marduk
was the Babylonian name of a late-generation god from ancient
Mesopotamia
Mesopotamia
Mesopotamia is a toponym for the area of the Tigris–Euphrates river system, largely corresponding to modern-day Iraq, northeastern Syria, southeastern Turkey and southwestern Iran.Widely considered to be the cradle of civilization, Bronze Age Mesopotamia included Sumer and the...
and patron deity of the city of
Babylon
Babylon
Babylon was an Akkadian city-state of ancient Mesopotamia, the remains of which are found in present-day Al Hillah, Babil Province, Iraq, about 85 kilometers south of Baghdad...
, who, when Babylon became the political center of the
Euphrates
Euphrates
The Euphrates is the longest and one of the most historically important rivers of Western Asia. Together with the Tigris, it is one of the two defining rivers of Mesopotamia...
valley in the time of
Hammurabi
Hammurabi
Hammurabi Hammurabi Hammurabi (Akkadian from Amorite ʻAmmurāpi, "the kinsman is a healer", from ʻAmmu, "paternal kinsman", and Rāpi, "healer"; (died c...
(18th century BCE), started to slowly rise to the position of the head of the Babylonian pantheon, a position he fully acquired by the second half of the second millennium BCE.
According to
The Ecyclopedia of Religion
, the name
Marduk
was probably pronounced
Marutuk
.