 Magnolia Petroleum Company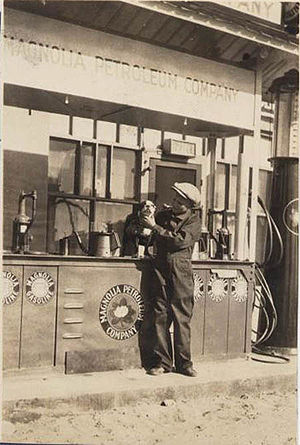 The
Magnolia Petroleum Company
was an early twentieth century petroleum company in
Texas
Texas
Texas is the second largest U.S. state by both area and population, and the largest state by area in the contiguous United States.The name, based on the Caddo word "Tejas" meaning "friends" or "allies", was applied by the Spanish to the Caddo themselves and to the region of their settlement in...
and was founded on April 24, 1911 as a consolidation of several earlier companies. Standard Oil of New York (Socony) exchanged its stock for all of the Magnolia stock in December 1925 though it continued to operate as an affiliate of Socony. Later in 1959 Magnolia was fully incorporated into the
Mobil
Mobil
Mobil, previously known as the Socony-Vacuum Oil Company, was a major American oil company which merged with Exxon in 1999 to form ExxonMobil. Today Mobil continues as a major brand name within the combined company, as well as still being a gas station sometimes paired with their own store or On...
division of Socony.
Magnolia's
Pegasus
Pegasus
Pegasus is one of the best known fantastical as well as mythological creatures in Greek mythology. He is a winged divine horse, usually white in color. He was sired by Poseidon, in his role as horse-god, and foaled by the Gorgon Medusa. He was the brother of Chrysaor, born at a single birthing...
logo, clad in red, has been the emblem of Mobil since the 1930s.