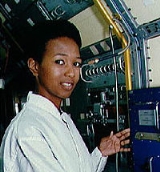 Mae Jemison
Mae Carol Jemison is an American
physician
Physician
A physician is a health care provider who practices the profession of medicine, which is concerned with promoting, maintaining or restoring human health through the study, diagnosis, and treatment of disease, injury and other physical and mental impairments...
and
NASA
NASA
The National Aeronautics and Space Administration is the agency of the United States government that is responsible for the nation's civilian space program and for aeronautics and aerospace research...
astronaut
Astronaut
An astronaut or cosmonaut is a person trained by a human spaceflight program to command, pilot, or serve as a crew member of a spacecraft....
. She became the first
black
Black people
The term black people is used in systems of racial classification for humans of a dark skinned phenotype, relative to other racial groups.Different societies apply different criteria regarding who is classified as "black", and often social variables such as class, socio-economic status also plays a...
woman to travel in space when she went into orbit aboard the
Space Shuttle Endeavour
Space Shuttle Endeavour
Space Shuttle Endeavour is one of the retired orbiters of the Space Shuttle program of NASA, the space agency of the United States. Endeavour was the fifth and final spaceworthy NASA space shuttle to be built, constructed as a replacement for Challenger...
on September 12, 1992.
Mae Carol Jemison was born in
Decatur, Alabama
Decatur, Alabama
Decatur is a city in Limestone and Morgan Counties in the U.S. state of Alabama. The city, affectionately known as "The River City", is located in Northern Alabama on the banks of Wheeler Lake, along the Tennessee River. It is the largest city and county seat of Morgan County...
, the youngest child of Charlie Jemison and Dorothy Green. Her father was a maintenance supervisor for a charity organization, and her mother worked most of her career as an elementary school teacher of English and math at the Beethoven School in Chicago.