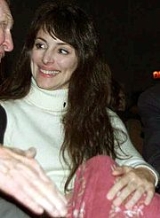 Madeleine Stowe
Madeleine Mora Stowe
is an American actress. She rose to prominence appearing in films such as
Stakeout
,
Revenge
Revenge (film)
Revenge is a 1990 crime-drama-thriller directed by Tony Scott, starring Kevin Costner, Anthony Quinn, Madeleine Stowe, Miguel Ferrer and Sally Kirkland. Some scenes were filmed in Mexico. The movie is a production of New World Pictures and Rastar Films and released by Columbia Pictures...
,
Unlawful Entry
Unlawful Entry (film)
Unlawful Entry is a 1992 American thriller film directed by Jonathan Kaplan starring Kurt Russell, Ray Liotta and Madeleine Stowe. Involving a couple who befriend a lonely policeman, only for him to develop a fixation on the wife .Ray Liotta was nominated for an MTV Movie Award in 1993 for his...
,
The Last of the Mohicans
The Last of the Mohicans (1992 film)
The Last of the Mohicans is a 1992 historical epic film set in 1757 during the French and Indian War and produced by Morgan Creek Pictures. It was directed by Michael Mann and based on James Fenimore Cooper's novel of the same name, although it owes more to George B. Seitz's 1936 film adaptation...
,
Blink
Blink (film)
Blink is a 1994 neo-noir thriller film starring Madeleine Stowe, and Aidan Quinn. Director Michael Apted was nominated for a Crystal Globe award for the film at the Karlovy Vary International Film Festival, and screenwriter Dana Stevens was nominated for Best Motion Picture at the Edgar Allan Poe...
,
China Moon
China Moon
China Moon is a 1994 neo-noir written by Roy Carlson, directed by John Bailey, and starring Ed Harris and Madeleine Stowe.-Plot:The film opens as detectives Kyle Bodine and Lamar Dickey investigate a murder scene...
,
12 Monkeys
, and
We Were Soldiers
We Were Soldiers
We Were Soldiers is a 2002 American war film that dramatizes the Battle of Ia Drang on November 14, 1965. The film was directed by Randall Wallace and stars Mel Gibson. It is based on the book We Were Soldiers Once… And Young by Lieutenant General Hal Moore and reporter Joseph L...
. She stars as
Victoria Grayson
Victoria Grayson
Victoria Grayson is a fictional character on the ABC television series Revenge, portrayed by Madeleine Stowe.-Personality:Victoria Grayson, considered by many characters as "the Queen of the Hamptons", with a net worth of $4.7 billion dollars, is the glamorous but powerful matriarch of the Grayson...
in the
ABC
American Broadcasting Company
The American Broadcasting Company is an American commercial broadcasting television network. Created in 1943 from the former NBC Blue radio network, ABC is owned by The Walt Disney Company and is part of Disney-ABC Television Group. Its first broadcast on television was in 1948...
drama series
Revenge
Revenge (TV series)
Revenge is an American television drama inspired by the Alexandre Dumas novel The Count of Monte Cristo starring Madeleine Stowe and Emily VanCamp. It debuted on ABC on September 21, 2011, and currently airs on Wednesday nights at 10:00 pm Eastern/9:00 pm Central...
.
Stowe was born in
Portland, Oregon
Portland, Oregon
Portland is a city located in the Pacific Northwest, near the confluence of the Willamette and Columbia rivers in the U.S. state of Oregon. As of the 2010 Census, it had a population of 583,776, making it the 29th most populous city in the United States...
and raised in
Eagle Rock
Eagle Rock, Los Angeles, California
In 1909, Hill Avenue, now Hill Drive, was one of Eagle Rock's most beautiful streets. Other streets were Royal Drive , Acacia Street , Kenilworth Avenue , Highland Avenue , and Fairmont Avenue...
, a suburb of
Los Angeles
Los Angeles, California
Los Angeles , with a population at the 2010 United States Census of 3,792,621, is the most populous city in California, USA and the second most populous in the United States, after New York City. It has an area of , and is located in Southern California...
. She is the first of three children born to Mireya (née Mora) — who had come from a prominent family in
Costa Rica
Costa Rica
Costa Rica , officially the Republic of Costa Rica is a multilingual, multiethnic and multicultural country in Central America, bordered by Nicaragua to the north, Panama to the southeast, the Pacific Ocean to the west and the Caribbean Sea to the east....
, and Robert Stowe, a civil engineer who was a native of Oregon.
They have a tendency to get beaten up or thrown off a cliff, I know. Why does that happen with me?

On the roles she plays; "Stowe Away", interview in SPLICEDwire (14 June 1999)
I'd just love to see a great love story, and nobody makes them anymore. You have great actresses like Cate Blanchett — she's fabulous in Pushing Tin and Elizabeth — and you don't use them.

Interview appearing at reel.com (10 July 1999) :Stowe in the role of Dr. Kathryn Railly:
We began talking about the characters and he opened up about his vision. He's extremely thoughtful and sees grand issues both social and political in an interesting way. Quite honestly, I wasn't certain how some of his ideas were applicable to the screenplay, but he was heartfelt and adamant about them. And I remember completely going with it.

On talking with Michael Mann (film director)|Michael Mann about his screenplay for Last of the Mohicans.
In the 90's action pictures were all the rage. As a woman, I was fed up with them and I initially thought that the script was just another action film dressed up as a period piece. When Michael began speaking about the character's inner life, it was clear that his own inner life was strong, as well. I then saw Cora in a completely different light because of Michael's orientation. It became easy to personalize her.

I feel like everything I tried to do is in there.

A previous statement about her role in Last of the Mohicans, quoted by the interviewer.