 Lynchet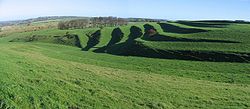 A
lynchet
is a bank of earth that builds up on the downslope of a field
plough
Plough
The plough or plow is a tool used in farming for initial cultivation of soil in preparation for sowing seed or planting. It has been a basic instrument for most of recorded history, and represents one of the major advances in agriculture...
ed over a long period of time. The disturbed
soil
Soil
Soil is a natural body consisting of layers of mineral constituents of variable thicknesses, which differ from the parent materials in their morphological, physical, chemical, and mineralogical characteristics...
slips down the hillside to create a positive lynchet while the area reduced in level becomes a negative lynchet. They are also referred to as
strip lynchets
.
They are a feature of ancient field systems such as the
Celtic fields
Celtic fields
Celtic field is a popular name for the traces of early agricultural field systems found in North-West Europe, e.g. Belgium, Britain, Germany, Ireland and the Netherlands. The name was given by O.G.S. Crawford. They are sometimes preserved in areas where industrial farming has not been adopted and...
of the
British Isles
British Isles
The British Isles are a group of islands off the northwest coast of continental Europe that include the islands of Great Britain and Ireland and over six thousand smaller isles. There are two sovereign states located on the islands: the United Kingdom of Great Britain and Northern Ireland and...
. Some believe that they were passively formed under the long-term action of gravity and weathering on the loosened soil of a ploughed slope, while others believe they may have been intentionally formed, to prevent erosion and slippage of the ploughed slope.
The word is the diminutive form of
lynch
, now rarely appearing in the
English language
English language
English is a West Germanic language that arose in the Anglo-Saxon kingdoms of England and spread into what was to become south-east Scotland under the influence of the Anglian medieval kingdom of Northumbria...
, indicating an
agricultural terrace
Terrace (agriculture)
Terraces are used in farming to cultivate sloped land. Graduated terrace steps are commonly used to farm on hilly or mountainous terrain. Terraced fields decrease erosion and surface runoff, and are effective for growing crops requiring much water, such as rice...
.