 Luther's Small Catechism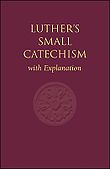 Luther's Small Catechism
(Der Kleine Katechismus) was written by Martin Luther and published in 1529 for the training of children. Luther's Small
Catechism
Catechism
A catechism , i.e. to indoctrinate) is a summary or exposition of doctrine, traditionally used in Christian religious teaching from New Testament times to the present...
reviews
The Ten Commandments
Ten Commandments
The Ten Commandments, also known as the Decalogue , are a set of biblical principles relating to ethics and worship, which play a fundamental role in Judaism and most forms of Christianity. They include instructions to worship only God and to keep the Sabbath, and prohibitions against idolatry,...
,
The Apostles' Creed
Apostles' Creed
The Apostles' Creed , sometimes titled Symbol of the Apostles, is an early statement of Christian belief, a creed or "symbol"...
,
The Lord's Prayer
Lord's Prayer
The Lord's Prayer is a central prayer in Christianity. In the New Testament of the Christian Bible, it appears in two forms: in the Gospel of Matthew as part of the discourse on ostentation in the Sermon on the Mount, and in the Gospel of Luke, which records Jesus being approached by "one of his...
,
The Sacrament of Holy Baptism
Baptism
In Christianity, baptism is for the majority the rite of admission , almost invariably with the use of water, into the Christian Church generally and also membership of a particular church tradition...
,
The Office of the Keys & Confession
Confession in the Lutheran Church
In the Lutheran Church, Confession is the method given by Christ to the Church by which individual men and women may receive the forgiveness of sins; according to the Large Catechism, the "third sacrament" of Holy Absolution is properly viewed as an extension of Holy Baptism.-Beliefs:The Lutheran...
, and
The Sacrament of the Eucharist
Eucharist in the Lutheran Church
The Eucharist in the Lutheran Church refers to the liturgical commemoration of the Last Supper....
. It is included in the
Lutheran
Lutheranism
Lutheranism is a major branch of Western Christianity that identifies with the theology of Martin Luther, a German reformer. Luther's efforts to reform the theology and practice of the church launched the Protestant Reformation...
Book of Concord
Book of Concord
The Book of Concord or Concordia is the historic doctrinal standard of the Lutheran Church, consisting of ten credal documents recognized as authoritative in Lutheranism since the 16th century...
as an authoritative statement of what Lutherans believe.
The Small Catechism is widely used today in Lutheran churches as part of youth education and
Confirmation
Confirmation (Lutheran Church)
Confirmation in the Lutheran Church is a public profession of faith prepared for by long and careful instruction. In English, it is called "affirmation of baptism", and is a mature and public profession of the faith which "marks the completion of the congregation's program of confirmation...
.
External links