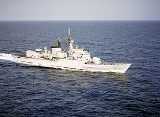 Lupo class frigate
The Lupo
class is a class

Ship class

A ship class is a group of ships of a similar design. This is distinct from a ship-type, which might reflect a similarity of tonnage or intended use. For example, the is a nuclear aircraft carrier of the Nimitz class....


of frigate

Frigate

A frigate is any of several types of warship, the term having been used for ships of various sizes and roles over the last few centuries.In the 17th century, the term was used for any warship built for speed and maneuverability, the description often used being "frigate-built"...


s built by
Cantieri Navali Riuniti
(CNR) for the Italian Navy

Marina Militare

The Italian Navy is the navy of the Italian Republic. It is one of the four branches of military forces of Italy; formed in 1946, from what remained of the Regia Marina . As of 2008, the Italian Navy had 35,200 active personnel with 180 commissioned ships, 19 Floating Docks, and 123 aircraft...


. Designed as multipurpose warship

Warship

A warship is a ship that is built and primarily intended for combat. Warships are usually built in a completely different way from merchant ships. As well as being armed, warships are designed to withstand damage and are usually faster and more maneuvrable than merchant ships...


s with emphasis on anti-surface warfare

Anti-Surface Warfare

Anti-surface warfare is a type of naval warfare directed against surface combatants. More generally, it is any weapons, sensors, or operations intended to attack or limit the effectiveness of an adversary's surface ships....


(ASuW), they have enjoyed some success in the export market, being acquired by the navies of Peru

Peruvian Navy

The Peruvian Navy is the branch of the Peruvian Armed Forces tasked with surveillance, patrol and defense on lakes, rivers and the Pacific Ocean up to 200 nautical miles from the Peruvian littoral...


and Venezuela. A small run of a slightly updated version is known as the Soldati
class.
In the early 1970s, the
Marina Militare
Marina Militare
The Italian Navy is the navy of the Italian Republic. It is one of the four branches of military forces of Italy; formed in 1946, from what remained of the Regia Marina . As of 2008, the Italian Navy had 35,200 active personnel with 180 commissioned ships, 19 Floating Docks, and 123 aircraft...
faced an increased
Soviet
Soviet Union
The Soviet Union , officially the Union of Soviet Socialist Republics , was a constitutionally socialist state that existed in Eurasia between 1922 and 1991....
naval presence in the
Mediterranean Sea
Mediterranean Sea
The Mediterranean Sea is a sea connected to the Atlantic Ocean surrounded by the Mediterranean region and almost completely enclosed by land: on the north by Anatolia and Europe, on the south by North Africa, and on the east by the Levant...
which constituted a threat to its
sea lines of communication
Sea lines of communication
Sea lines of communication is a term describing the primary maritime routes between ports, used for trade, logistics and naval forces...
as well as to its extensive coastline.