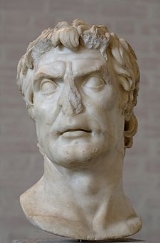 Lucius Cornelius Sulla
Lucius Cornelius Sulla Felix
(c. 138 BC – 78 BC), known commonly as
Sulla
, was a Roman
general
General
A general officer is an officer of high military rank, usually in the army, and in some nations, the air force. The term is widely used by many nations of the world, and when a country uses a different term, there is an equivalent title given....
and
statesman
Statesman
A statesman is usually a politician or other notable public figure who has had a long and respected career in politics or government at the national and international level. As a term of respect, it is usually left to supporters or commentators to use the term...
. He had the rare distinction of holding the office of
consul
Roman consul
A consul served in the highest elected political office of the Roman Republic.Each year, two consuls were elected together, to serve for a one-year term. Each consul was given veto power over his colleague and the officials would alternate each month...
twice, as well as that of
dictator
Roman dictator
In the Roman Republic, the dictator , was an extraordinary magistrate with the absolute authority to perform tasks beyond the authority of the ordinary magistrate . The office of dictator was a legal innovation originally named Magister Populi , i.e...
. He was one of the canonical great men of Roman history, included in the biographical collections of leading generals and politicians, originating in the biographical compendium of famous Romans, published by
Marcus Terentius Varro
Marcus Terentius Varro
Marcus Terentius Varro was an ancient Roman scholar and writer. He is sometimes called Varro Reatinus to distinguish him from his younger contemporary Varro Atacinus.-Biography:...
.
I forgive the many for the sake of the few, the living for the dead.

On calling an end to the sacking of Athens, after a plea on its behalf by two Athenians loyal to Rome, as quoted in The Story of Rome : From the Earliest Times to the Death of Augustus (1900) by Mary Macgregor; also said to be in a translation of Plutarch|Plutarch's works.
No friend ever served me, and no enemy ever wronged me, whom I have not repaid in full.

His self-made epitaph, as quoted in Heroes of History : A Brief History of Civilization from Ancient Times to the Dawn of the Modern Age (2001) by Will Durant; variant translation: "...nor enemy harmed me"