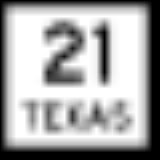 Louisiana Highway 6
Louisiana Highway 6
is a
state highway
State highway
State highway, state road or state route can refer to one of three related concepts, two of them related to a state or provincial government in a country that is divided into states or provinces :#A...
in
Louisiana
Louisiana
Louisiana is a state located in the southern region of the United States of America. Its capital is Baton Rouge and largest city is New Orleans. Louisiana is the only state in the U.S. with political subdivisions termed parishes, which are local governments equivalent to counties...
. It spans 54.45 miles (87.6 km) and serves Sabine Parish and Natchitoches Parish.
Route description
State Highway 21
State Highway 21 (Texas)
State Highway 21, or SH 21, runs from the Texas-Louisiana boundary east of San Augustine to San Marcos in east and central Texas.-History:...
becomes LA 6 after it crosses the
Sabine River
Sabine River (Texas-Louisiana)
The Sabine River is a river, long, in the U.S. states of Texas and Louisiana. In its lower course, it forms part of the boundary between the two states and empties into Sabine Lake, an estuary of the Gulf of Mexico. The river formed part of the United States-Mexican international boundary during...
(Toledo Bend Reservoir) from
Texas
Texas
Texas is the second largest U.S. state by both area and population, and the largest state by area in the contiguous United States.The name, based on the Caddo word "Tejas" meaning "friends" or "allies", was applied by the Spanish to the Caddo themselves and to the region of their settlement in...
into Louisiana. LA 6 then heads due east to Many where it intersects
U.S. Route 171
U.S. Route 171
U.S. Highway 171 is a north–south United States highway. This short-route 179-mile highway, entirely within western Louisiana, has remained largely unchanged from its original 1926 route....
and turns slightly northeastward. LA 6 intersects Louisiana Highway 120 in Robeline. LA 6 then intersects Louisiana Highway 117 near Hagewood,
Interstate 49
Interstate 49
Interstate 49 is currently an intrastate Interstate Highway located entirely within the state of Louisiana in the southern United States. Its southern terminus is in Lafayette, Louisiana, at Interstate 10 while its northern terminus is in Shreveport, Louisiana, at Interstate 20.-Route...
, and
Louisiana Highway 1
Louisiana Highway 1
Louisiana Highway 1 is a state highway in Louisiana. At 436.20 miles , it is the longest numbered highway of any class in Louisiana. It runs diagonally across the state, connecting the oil and gas fields near the island of Grand Isle with the northwest corner of the state, north of Shreveport.The...
before entering the Natchitoches city limits. LA 6 runs west and north of the city center. However,
Louisiana Highway 6 Business
runs through the downtown area before rejoining LA 6 just north of the city limits. LA 6 then crosses the Red River and ends at a junction with
U.S. Route 71
U.S. Route 71
U.S. Route 71 is a north–south United States highway. This original 1926 route has remained largely unchanged by encroaching Interstate highways. Currently, the highway's northern terminus is in International Falls, Minnesota at the Canadian border, at the southern end of the Fort...
in
Clarence
Clarence, Louisiana
Clarence is a village in Natchitoches Parish, Louisiana, United States. The population was 499 at the 2010 census. It is located some seven miles east of the parish seat of Natchitoches and is part of the Natchitoches Micropolitan Statistical Area....
in Natchitoches Parish.