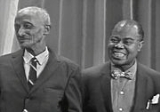 Louis Armstrong
Louis Armstrong nicknamed Satchmo or Pops, was an American
jazz
Jazz
Jazz is a musical style that originated at the beginning of the 20th century in African American communities in the Southern United States. It was born out of a mix of African and European music traditions. From its early development until the present, jazz has incorporated music from 19th and 20th...
trumpeter and singer from New Orleans,
Louisiana
Louisiana
Louisiana is a state located in the southern region of the United States of America. Its capital is Baton Rouge and largest city is New Orleans. Louisiana is the only state in the U.S. with political subdivisions termed parishes, which are local governments equivalent to counties...
.
Coming to prominence in the 1920s as an "inventive" cornet and trumpet player, Armstrong was a foundational influence in jazz, shifting the music's focus from collective improvisation to solo performance.
With his instantly recognizable deep and distinctive gravelly voice, resembling the sound of a trumpet, Armstrong was also an influential singer, demonstrating great dexterity as an improviser, bending the lyrics and melody of a song for expressive purposes.
The Brick House was one of the toughest joints I ever played in ... Guys would drink and fight one another like circle saws. Bottles would come flying over the bandstand like crazy and there was lots of plain common shooting and cutting. But somehow all that jive didn't faze me at all. I was so happy to have some place to blow my horn.

Satchmo: My Life in New Orleans (1954)